Taking a Nile River cruise in Egypt is a fascinating way to relax and merge nature and history together.  Egypt is a magnificent country, and it contains rich history and culture. A journey through the longest Nile River is one of the most unforgettable experiences you will ever have. Nile River cruises from Hurghada provide a unique opportunity to explore the world of ancient Egypt. The cruises last between four and eight days, and the itinerary can be customized depending on the traveler's preferences.
Travelers can expect to be completely immersed in the history and culture of ancient Egypt, as well as can relax and take in the stunning views along the tour. Nile cruises are a great way for travelers to uncover the mysteries of Egypt. We will go on our topic to know more about types of Nile Cruises, the best time to spend on a Nile Cruise, availability, and facilities to choose the best tour suited to you.

Nile Cruises Categories
Egypt is a great destination for a Nile cruise as they offer a variety of options to explore its magnificent river. From luxury Nile Cruises to feluccas, there is something for everyone to suit their budget. Luxury Nile cruises offer a unique way to experience the beauty of the Nile. With comfortable and amazing cabins, these cruises offer a luxurious experience and provide breathtaking views of the river and its surrounding landscape. They also feature a variety of amenities.
Nile cruises in Egypt are officially categorized into 4 stars and 5 stars, but this is not the best way to measure the quality of the Cruises. On Nile Cruises, Luxury and Deluxe Nile Cruises are the most popular in Egypt. Luxury Nile cruises are more expensive than deluxe ones, but they offer a high standard of comfort and service.
Deluxe Nile cruises are a more budget-limited option and are perfect for travelers who want to experience the culture and history of these incredible attractions. Deluxe Nile Cruise will take you on a journey of discovery, passing by iconic landmarks and ancient temples. It is an ideal way to explore the Nile generally.
If you prefer a private Nile Cruise, do not hesitate to ask for Dahabiya Nile Cruise, as you will enjoy the beauty and calmness on your own boat, especially if you are with your family or if you want to enjoy peace with your partner.
Nile cruises provide an enjoyable experience. No matter what type of cruise you will choose, a Nile cruise in Egypt is sure will provide a unique and unforgettable experience that you will remember for years to come.

Nile Cruises Duration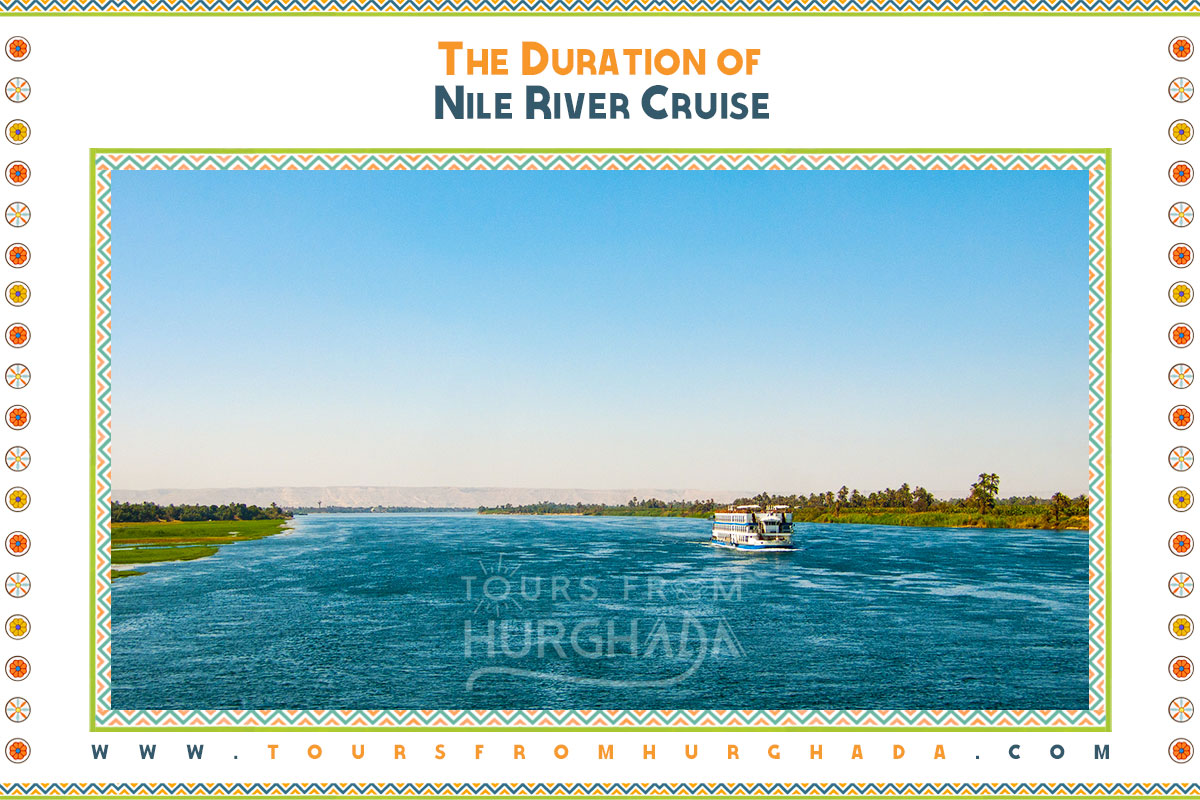 Nile River cruises in Egypt come with a duration from four days to eight days onboard. The most popular cruises are the four days from Aswan to Luxor and the eight nights from Luxor to Aswan. These Nile cruises take between three and seven nights, and all of them include stops at Abu Simbel and other mentioned attractions above. Any Nile cruise starts from Aswan or Luxor and passes by all attractions, except Abu Simbel as there are tourists who do not include it.

What to Visit While Cruising the Nile?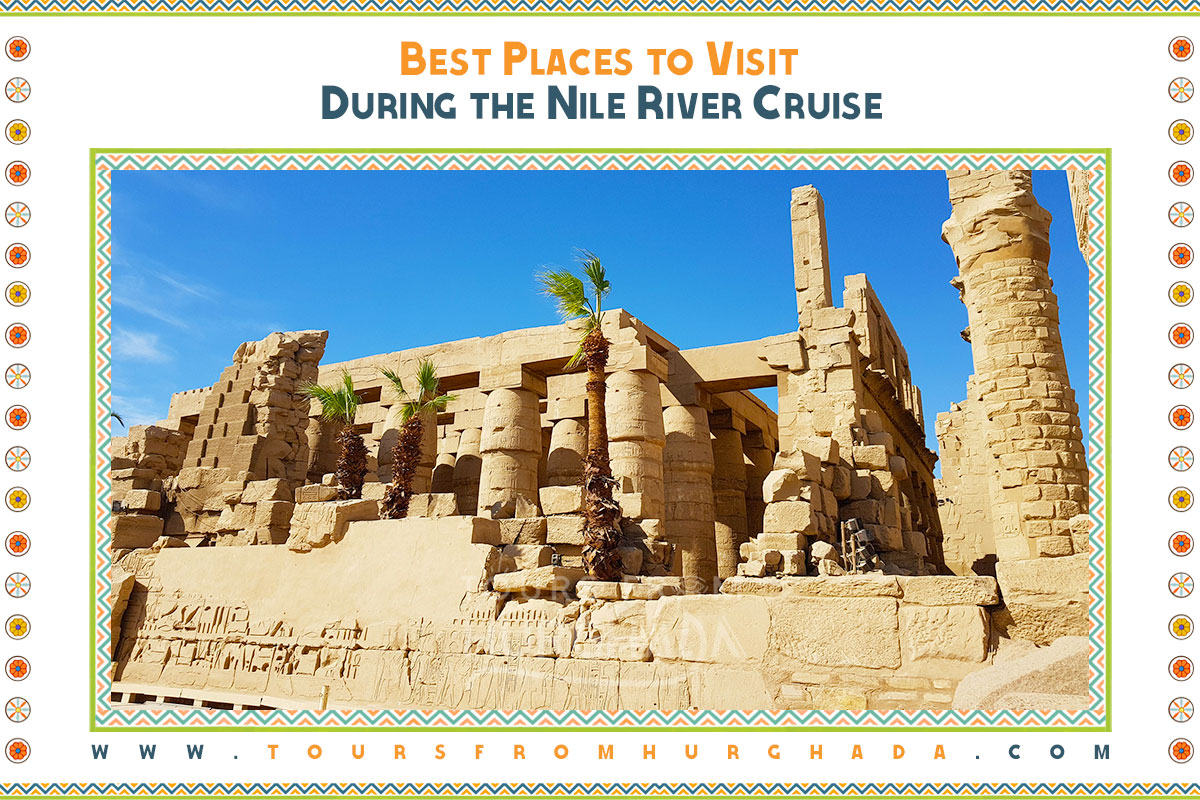 Exploring Egypt on a Nile cruise is an unforgettable experience. Taking a cruise along the Nile River is such a classical way to sail into the past, and explore the beauty and history of the ancient Egyptians. You will be able to visit important attractions like:
1. Ancient Luxor Attractions
Luxor is a city in Upper Egypt that is considered a home to the ancient Egyptians. This city includes the most important monuments in the world as it has two major banks. On the east bank, you can visit the temple of Karnak, and Luxor temple by night if you are a night lover as you will enjoy the vibes. On the west bank, you can visit the valley of the Kings, the temple of queen Hatshepsut, and the colossi of Memnon. One of the best ways to see the monuments is to spend four days in Luxor, as it has two-thirds of the monuments of the world and 24 attractions. There are many activities to do in Luxor such as a hot Air Balloon ride, horse-drawn carriages, and walking around Luxor streets and enjoying the vibes with your tour guide. Do not forget to try Sofra as it has classical food on Muhammed Farid Street, just a ten minutes walk from Luxor.
2. Wonders of the Golden City "Aswan"
Aswan is one of the most beautiful cities in Egypt, and full of amazing attractions for tourists to explore. Enjoy Aswan vibes from Philae Temple, to the unfinished obelisk, the High Dam, the Nubian village, Elephantine Island & the Abu Simbel temple. For more activities to do in Aswan, kindly do not forget to take Felucca on the River Nile, watch the sound & light show at Philae Temple, go shopping for gold, and get a custom-made perfume.
3. Edfu & Kom Omo Magical Temples
Kom Ombo and Edfu are two of the most famous landmarks between Luxor and Aswan. The Temple of Horus at Edfu temple is dedicated to the God Horus and is one of the best-preserved ancient monuments of Egypt. The temple of Kom Ombo is a unique temple, as it is dedicated to two Gods, God Horus, and God Sobek. Edfu and Kom Ombo stop on the Nile River cruises and they really worth visiting.

Best Time to Enjoy the Nile Cruise on 2023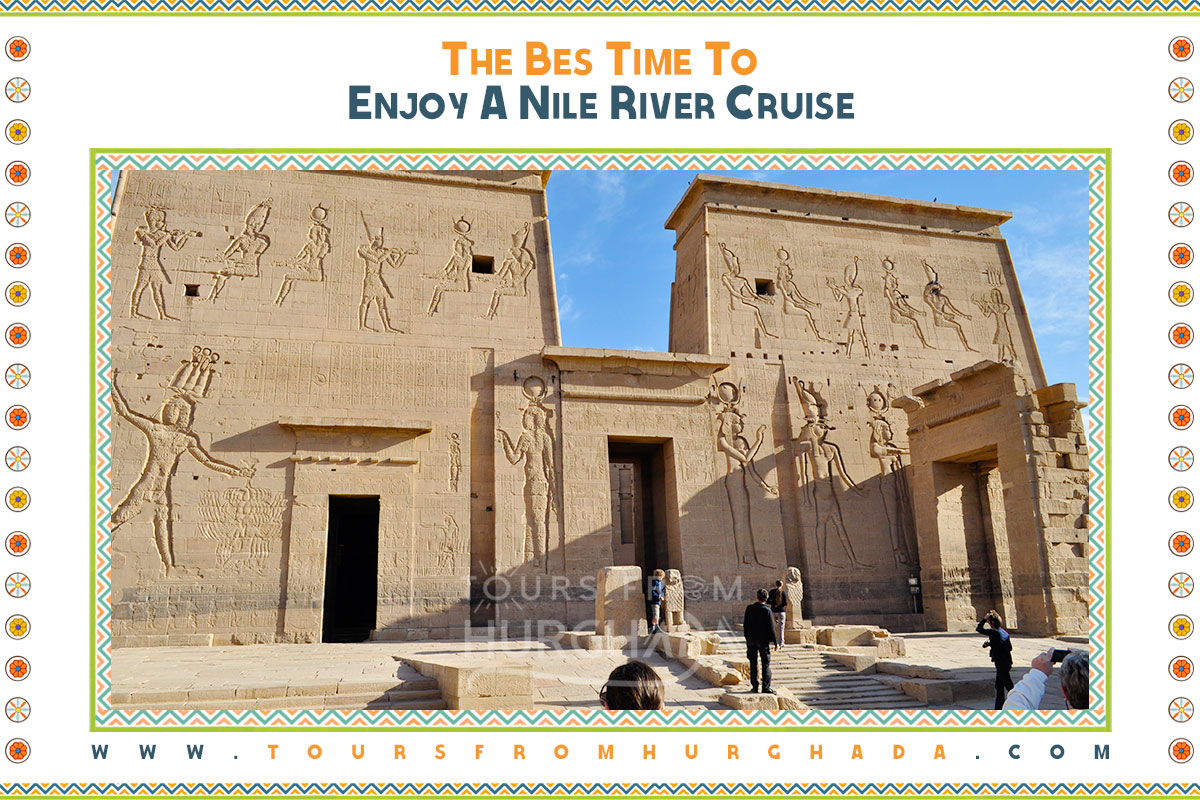 The best time to spend your vacation on a Nile Cruise is a highly important question. We highly recommend booking between April and October, as the temperature is almost warm most of this time. As wise advice, we recommend booking from June to August as the prices are fair. Hundreds of thousands of travelers come to Egypt every year to visit Egypt; because of its incredible weather in different areas of Egypt, So. Let us explain first the climate in Egypt in general, then you are free to choose the most suitable for you.
Spring in Egypt (March 20th to June 20th)
This weather is the favorite for Egyptians, and tourists as the temperature are generally moderate. Do not miss sharing our amazing festival of "Sham El-Nassem" this season. People celebrate this festival by picnicking in public gardens, zoos, or on the seas, eating salty fish, green onion, and colored boiled eggs.
Summer in Egypt (June 20th to September 22nd)
The summer in Egypt is almost hot, especially in Upper Egypt. If you are a summer lover, you will enjoy whether by witnessing the glorious life of the Pharaoh or by sailing in the river Nile to explore the mysteries of seven thousands of Ancient Egyptian history, then you can continue enjoying one of the most breathtaking beaches in the world by spending your summer vacation in Hurghada.
Autumn in Egypt (September 22nd to December 21st)
Autumn is a nice season in Egypt such as spring, as the weather is almost warm, and the temperature is cooler during autumn. Leaves on the tree turn yellow, orange, brown, and red. It's not that sunny or that cold.
Winter in Egypt (December 21st to March 21st)
This weather is the highest tourist season. The Coptic of Egypt celebrates this occasion on January 7th with Christmas. Most Christmas go to Coptic orthodox churches, then celebrate the vibes, especially if you have a Christmas tree and clothes like Santa. Do not miss celebrating the Gala dinner on the Nile Cruise on December 31st on board.

What to Pack with You Before Cruising the Nile
Sunblock: This is an important thing to pack with you to avoid sunburn, as it gets hot sometimes in Egypt, especially in Upper Egypt, and if you are on board. Top-rated sunscreen brands include Think, Raw, and Badger from Amazon.
Sun Hat & Sunglasses: After putting your sunblock on, you need to protect your eyes from sun rays. These items are available everywhere in Egypt, and you can buy them at a cheap price.
A Digital Camera: Egypt is full of amazing and incredible attractions that you should not miss taking photos of them. You need a digital camera, and a spare 16 GB memory card to memorize your experiences in high quality
Power Adapter: The most recommended one is the "Poweradd Charger" which will enable you to charge your devices well, as it contains two USB ports and three-prong outlets
Bottles of Water: You should pack a few extra bottles of water to stay hydrated during the cruise, as well as a few snacks to have throughout the journey
A Local SIM Card: Some Nile Cruises provide free Wi-Fi to their guests, and other cruises do not, it is ok to buy a local SIM Card to use it if you are off the board. We highly recommend getting 6 MB internet, and it cost around 12 USD per one.
A Local Tour Guide: This is the most important in your whole tour, you need a professional tour guide to help you to understand Egyptian history. Tours from Hurghada has highly qualified Egyptologists to serve its guests to explain to them the main sightseeing, take them to the best shops, and get exceptional prices for them.
Your Own Toiletries: Some Nile Cruises provide Conditioning shampoo in the bathroom, but they are not likely what you have, bring your toiletries and your hair care as well.
Medication: We highly recommend getting a first-aid-style full of your medication for upset stomach, pain relievers, and headache, do not forget to buy sea bands, in order to help you combat motion sickness. All these things are sold on the Nile Cruise but they are expensive compared to what you would pay at stores.
Hand Sanitizer: Washing your hands is the best way to stay healthy, it has always been the main key to staying safe if you are traveling. This step is more important than ever to keep your parents or children healthy. We highly recommend getting Babygencies Alcohol-Free Foaming Hand Sanitizer from any store or from Amazon If you are looking for a product with less alcohol.
Comfortable Walking Shoes: Be sure that you pack a pair of comfortable walking shoes, as there are distances between every attraction that you will see. If you are looking for a pair of comfortable shoes or sandals, we highly recommend buying them from KURU Footwear, Vionic, and FitFlp from Amazon, as they offer good options for both men and women.
A Good Book: Nile Cruise is the best place to read, as you will be relaxing and enjoy reading your favorite books or other e-books. Enjoy finding a Nile front lounge chair on the pool deck with your favorite drink, and enjoy the Nile vibes.

Facilities on the Nile Cruise
The Nile Cruises offer a unique and luxurious experience for travelers to Egypt from the moment you step on board, you're transported to a new world where there are comfort and elegance. Cabins of the Nile Cruises offer breathtaking views of the river and the surrounding countryside and the beauty of Upper Egypt. The facilities of the Nile cruises are different depending on the cruise category that you will board and you can decide which one is the most suitable for you after you define your budget. Here are some of the facilities that you may find while boarding a luxury Nile cruise:
Large Panoramic window.
Private bath for each cabin with a hairdryer.
All Cabins are Air-Conditioned.
There are non-smoking cabins.
Doctors on calls on the Nile Cruise.
Sat TV.
Bars.
Room service.
Sundeck
Swimming pool.
Safe Box in each cabin.
House Keeping.
Gymnasium.
Galabia Party.
Free Wi-Fi.
Satellite Phone.
Dancing shows.
Beauty center
Gift Shops
Spa.
Restaurants.
Mini fridge for each cabin.

Conclusion
To bring things together, the Nile Cruises in Egypt offers a unique and special way to explore the country's rich history, culture, and civilization. As you sail along the Nile River, you will be able to visit ancient temples, discover breathtaking natural beauty, and taste the special flavors of the Pharaoh, and whatever you are looking for relaxation, adventure, or a combination of both! The Nile Cruise makes an unforgettable experience. Our Nile cruises from Hurghada offer a variety of experiences that will make you want to return back to Egypt for more! Now it is your turn to bring History back to your life with Tours from Hurghada.
Availability: Everyday
From:
$660
/Per Person
4 Days / 3 Nights
4 days Cairo & Nile River cruise from Hurghada to explore the highlights of Cairo, then sail between the ...
Availability: Everyday
From:
$400
/Per Person
5 Days / 4 Nights
Enjoy an amazing 5 Days Nile cruise from Hurghada to Luxor & Aswan Landmarks joined by a professional Egy...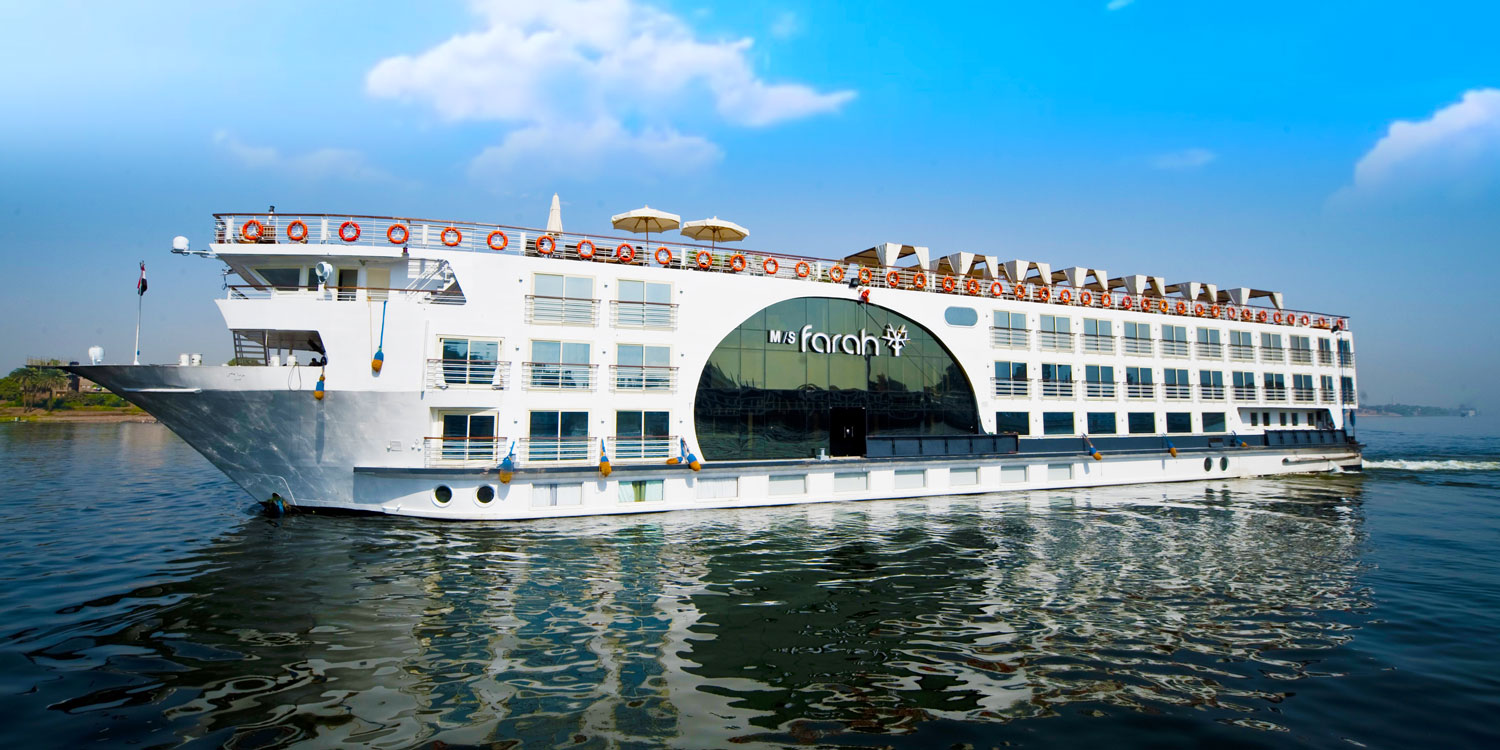 Availability: Mondays – Saturdays – Thursdays
From:
$790
/Per Person
8 Days - 7 Nights
Enjoy 8 days / 7 nights Nile cruise from Hurghada to Luxor & Aswan and experience a lifetime journey acro...