Egypt is the targeted destination for a great number of tourists who seek to have a truly special & unique vacation through visiting its fascinating attractions & its incomparable landmarks. Moreover, some tourists come to Egypt especially to taste
Egyptian food
as the Egyptians have created some special types of food in addition to the traditional food which they already have, so visiting Egypt is a very exceptional experience and trying the Egyptian food is another wonderful experience that you shouldn't miss. Here are some of the most common Egyptian food including appetizers, meats, dips, condiments, salads, bread, desserts, and all of what you may need to know about the meals that you can't miss in Egypt.
Egyptian Dips & Salads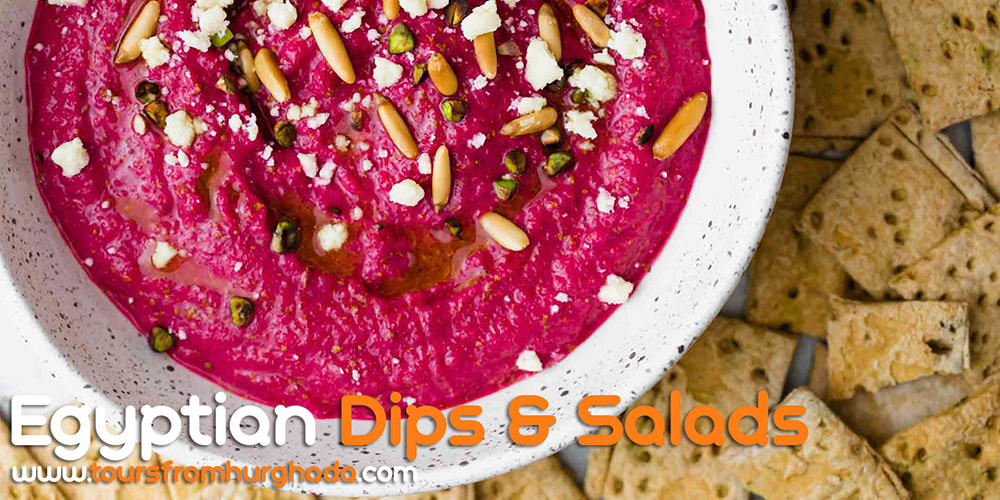 The majority of the Egyptian Cuisine starts with some Mezzes, which are a collection of salads & dips that come accompanied by pita bread and here are the most known Egyptian dips:
Tahini
It is originally a paste made from sesame seeds. It is used in many recipes and can be added to different types of food.
Hummus
It has origins in the Middle East but Egypt is more subtle and is made by blending chickpeas, some olive oil with tahini and some drops of lemon juice.
Tabouleh
It is the most famous salad in the Middle East and here are its ingredients: tomatoes, cucumber, garlic, bulgur, lemon juice with some salt and black pepper. It usually fits different dishes and can be eaten with many recipes.
Baba Ghanoush
It is a traditional Egyptian salad or dip that is made of aubergines, tomatoes, pepper, salt, tahini, and oil.
Zabadi
It is a yogurt dip that comes mixed with mint & cucumber and it can be used with food that includes chicken or meat.
Duqqa
A mixture of chopped nuts, some spices, and seeds. It is usually used next to different Egyptian plated to be added to the plates which seem to lose the taste or need some additions.
Salata Baladi
It is the best appetizer that can be eaten alone or next to the Egyptian dishes and it contains different types of vegetables & spices including tomatoes, cucumber, carrots, onions, lemon, pepper, salt, vinegar, and some spices to let it be tasty.
Egyptian Bread
Bread is an essential part next to the main Egyptian dishes just like rice and macaroni. Here are the most common types of bread in Egypt:
Bataw (بتاو)
Eish Baladi (عيش بلدي)
Eish fino (عيش فينو)
Eish Merahrah (عيش مرحرح)
Eish Shamsi (عيش شمسي)
Feteer Meshaltet (فطير مشلتت)
Common Egyptian Dishes
Now after introducing some of the most common appetizers, we'll start mentioning the best and most common Egyptian dishes and you really should try while visiting Egypt:
Fattah
Fattah: is a traditional Egyptian dish that has a lot of ingredients inside and it is the main dish in special celebrations for the Egyptians called "Eid El-Adha". It consists of a mixture of rice, Aish Balady that are all covered in tomato sauce.
Feteer
It is a big pie that contains many layers with quantities of samnah and you can eat it with either savory or with sweets like honey.
Fesikh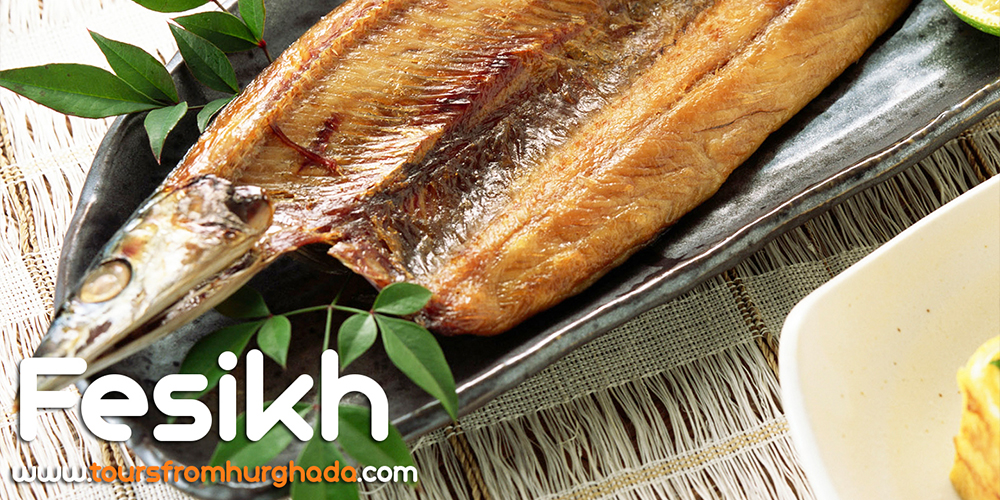 Fesikh is the traditional meal that is usually eaten with Renga in Sahm El-Naseem which is a day in Easter in which the Egyptians come together to eat it and it is a very salty meal.
Bamia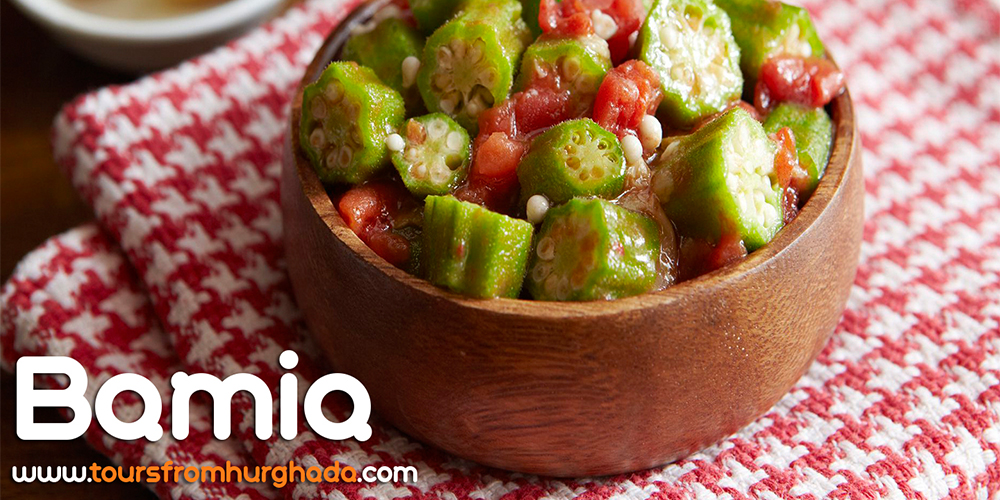 Bamia is actually okra that is cooked with tomato sauce and some spices and it is a very traditional meal that tastes very good.
Ful Medames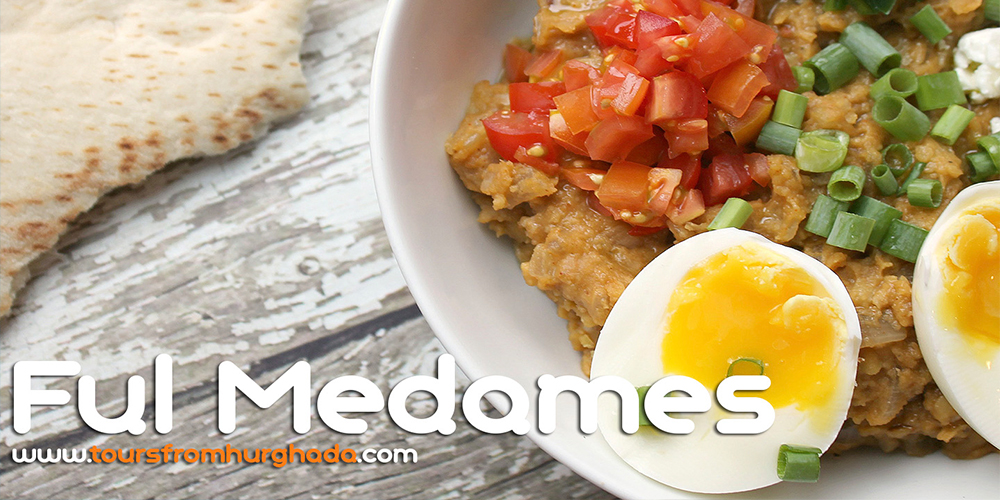 This meal is mainly fava beans that are cooked with olive oil & some spices and it is normally eaten with bread, not with spoons. It is considered a national dish in Egypt so you'll miss a lot if you didn't try a dish of Ful Medames.
Tamia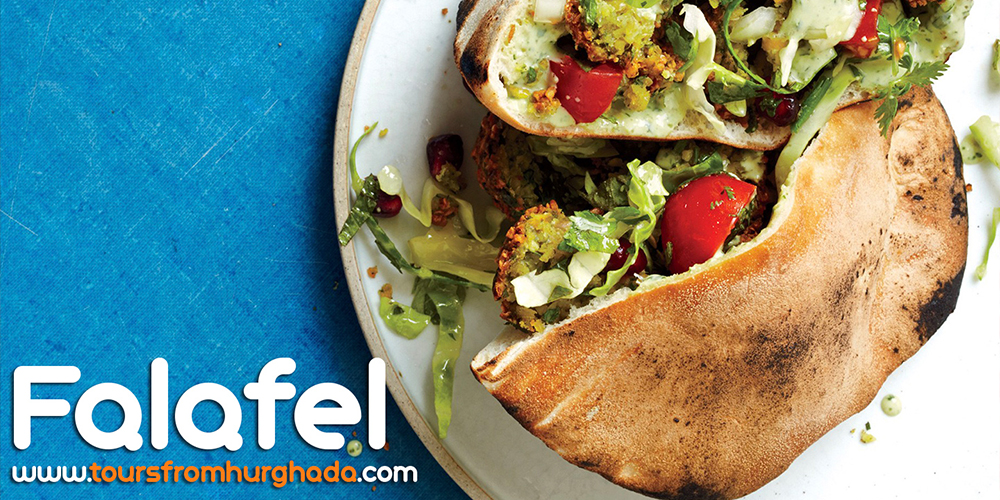 Tamia is called in Egypt "Falafel". It is a mixture of fava beans & chickpeas. It can be dipped in Hummus, and it can be raped in Aish Baladi to be eaten at breakfast or at dinner.
Hamam Mahshi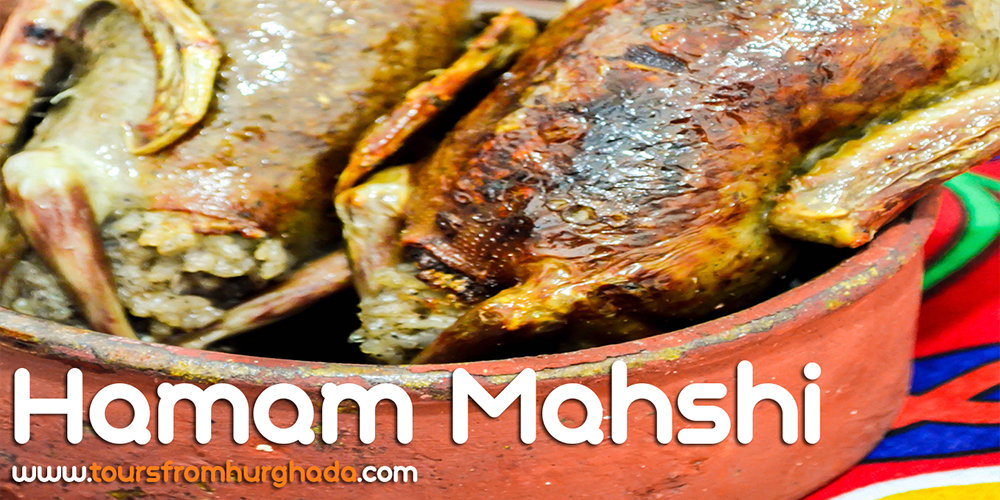 Hamam Mahshi is a very tasty meal that consists of stuffed pigeon with rice and sometimes herbs. It is cooked by first boiling and then to be roasted or grilled.
Hawawshi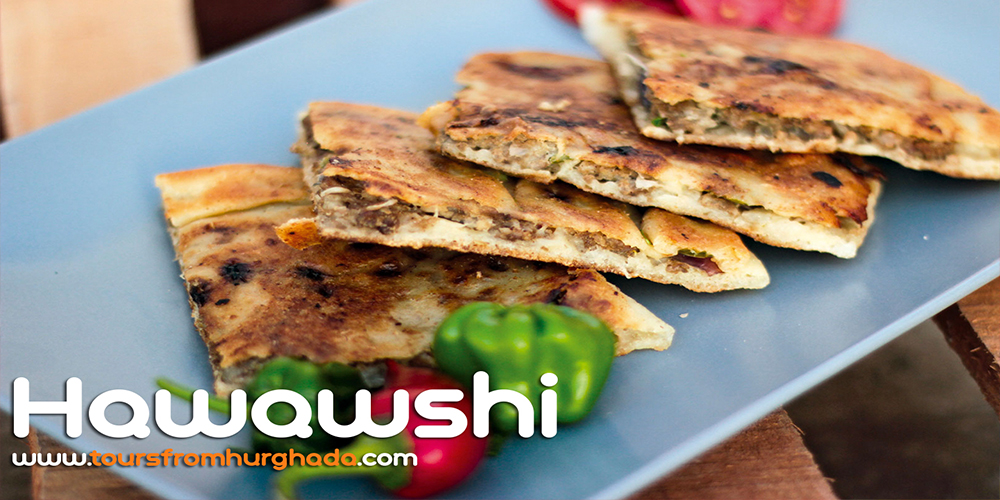 It is bread stuffed with minced meat that is marinated with onions, tomatoes, pepper, parsley, chilies, and a lot of spices to give it a special taste.
Kabab & Kofta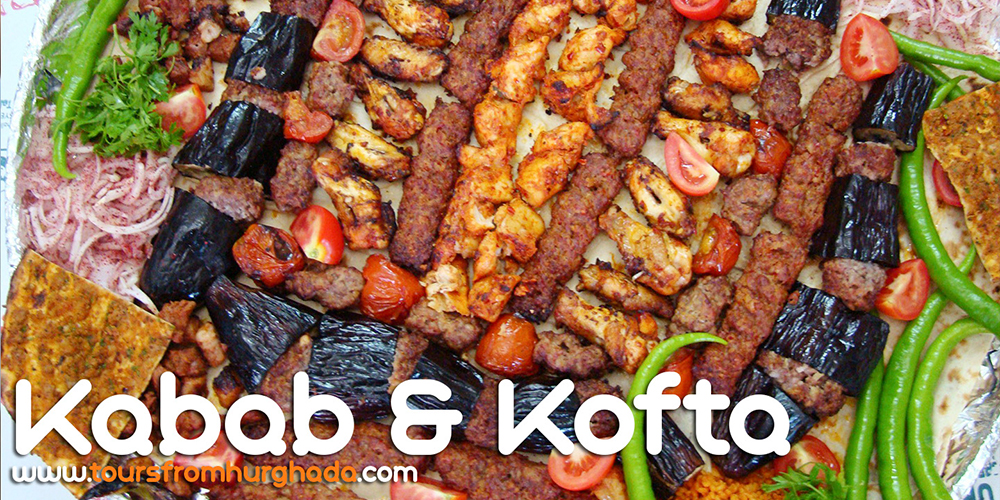 Kabab & Kofta: it is the best meal that you can taste in Egypt and there are usually a lot of restaurants that offer these dishes and here are the ingredients are chopped & minced meat of lambs that are grilled over charcoal with of course some additional ingredients.
Kushari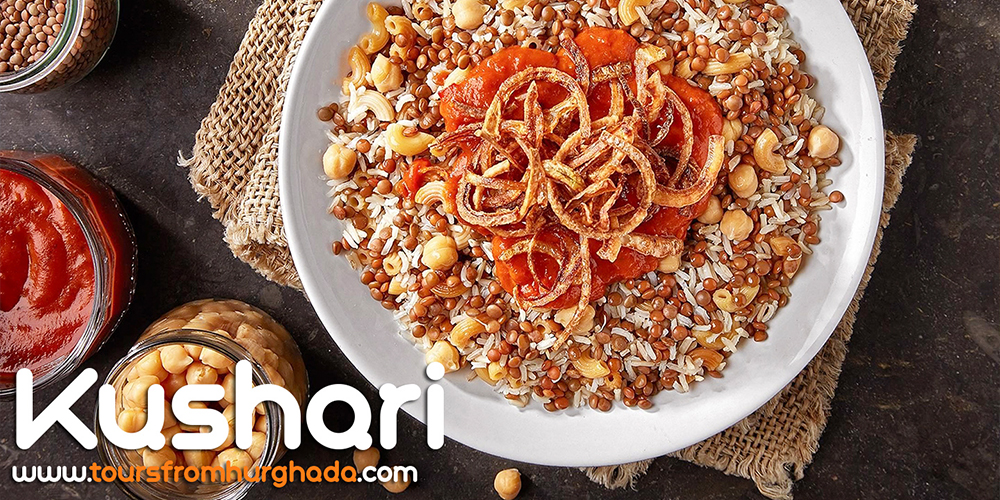 Kushari is a truly impressive Egyptian dish that has a lot of ingredients and the preparation of such a dish gets back to the 19th century. It is mainly made of rice, pasta "Macaroni", lentils, and it gets covered with tomato sauce and garlic vinegar or sometimes they use hot sauce but it is optional.
Macaroni Béchamel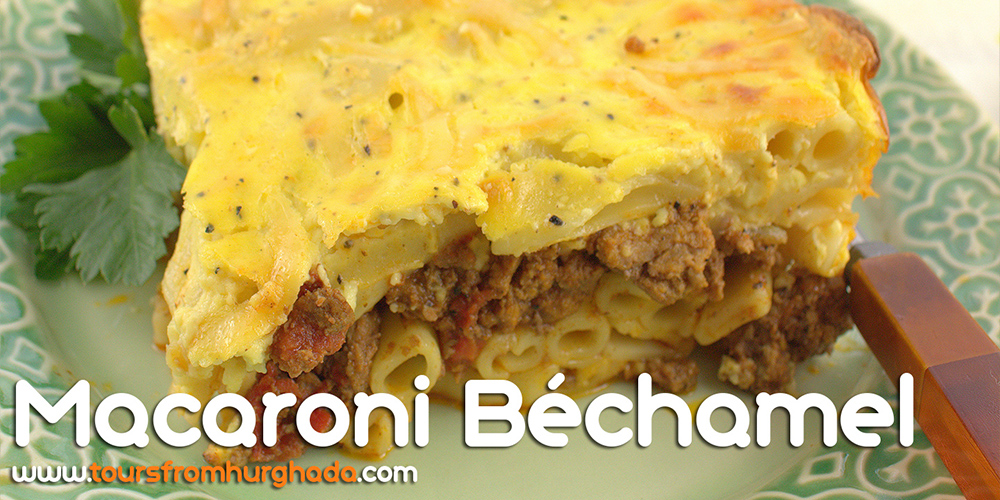 It is originally an Italian meal but without adding cheese. It contains pasta mixed with béchamel and it also contains minced meat and covers all with béchamel, eggs, and cheese, which can be of different types such as Sardo, pecorino, mozzarella, or even Romi Cheese.
Mahshi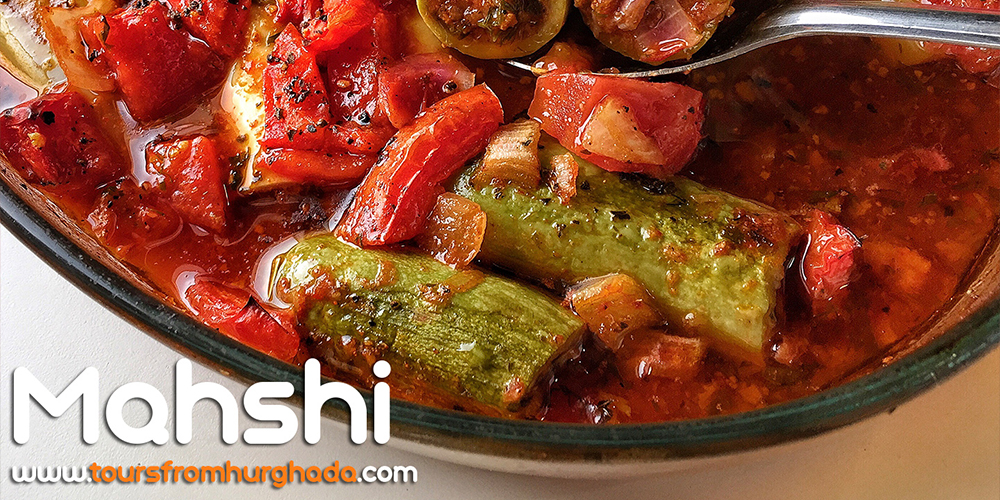 A typical winter meal that can be prepared with different types of vegetables including marrow, Aubergines, peppers, cabbage & grape leaves. All of those vegetables are stuffed with rice cooked with onions, tomatoes, some spices, and then they are boiled using chicken soup that makes the meal truly delicious.
Mesaqqa'ah
Mesaqqa'ah is a very traditional dish that is sometimes used as a dip and it contains slices of cooked eggplants with chopped tomatoes, chili peppers, and sometimes it is cooked in the oven covered with tomato sauce.
Molokhiya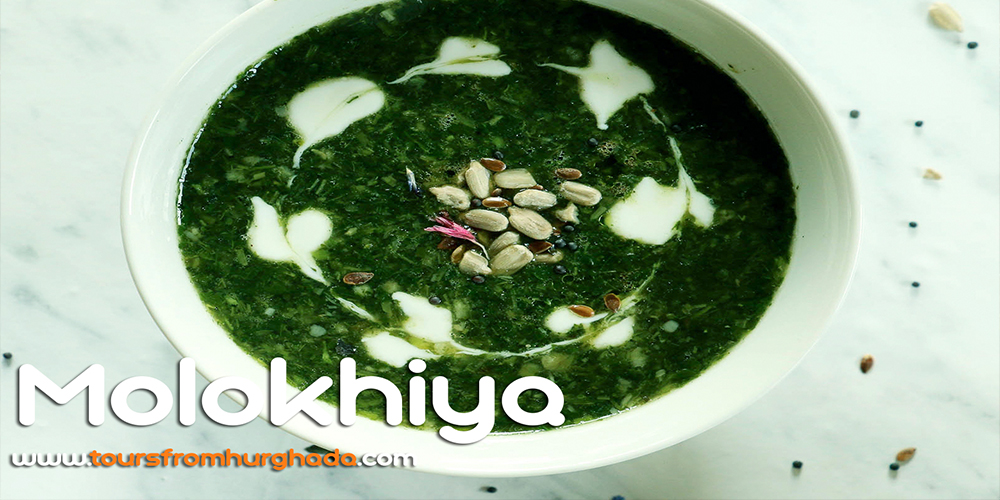 A special Egyptian soup and its main ingredients are chopped mallow leaves that are cooked with garlic & chicken soup. Its smell will take you to a truly exceptional world and it can be eaten next to the chicken, meat, and rabbits. They usually eat it in Alexandria & Port Said with shrimp.
Mombar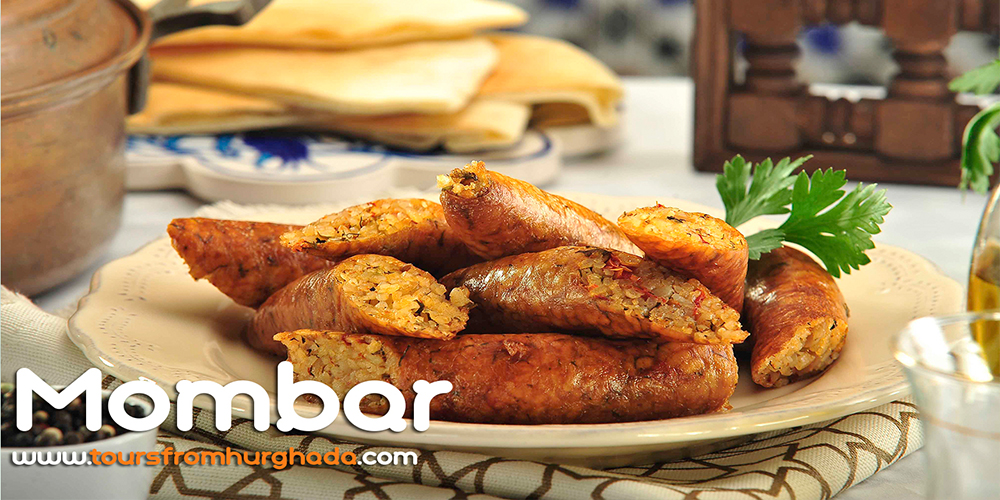 It is part of the sheep's inner body that is well-cleaned, cut, and stuffed with rice and then boiled, and finally fried in oil.
Shawarma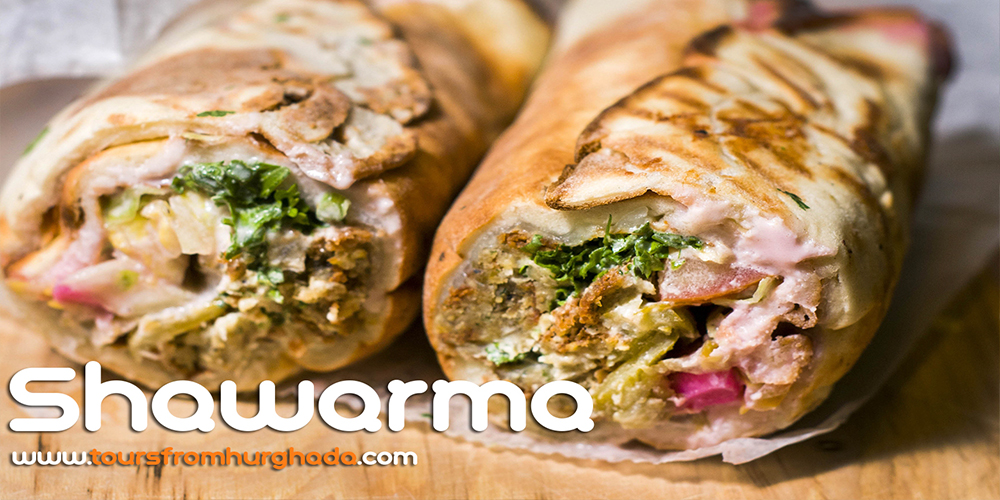 Shawarma is a popular Egyptian dish that contains shredded beef, chicken slices, covered with Ketchup, tehina, and mayonnaise.
Egyptian Desserts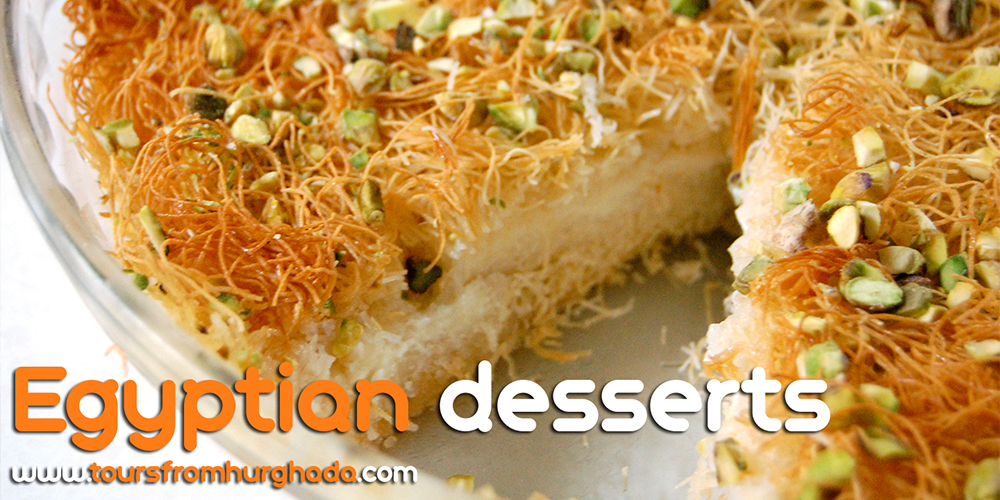 Egypt is famous for its delicious types of desserts that can be eaten at any time and can be found in the public stores. Here are some of the most common types of desserts in Egypt. Ramadan's most delectable sweets:
Umm Ali
Sweet pastry pudding. It consists of layers of puff pastry soaked in milk and mixed with nuts, raisins, coconut flakes, and sugar, then thrown into the oven to bake.
Basbousa
Topped with nuts and it has an origin from the Ottoman period. It has multiple names from a country to another as it called basbousa in Egypt, ravani in Turkey & Greece, and Namoura in Lebanon. It is usually soaked in sweet syrup and topped with almonds and fresh cream.
Harissa
It is similar to basbousa and you can easily get it while being in Alexandria. It is so delicious to have as a dessert.
Kunafeh
Topped with pistachios. It is a truly famous dessert in Egypt, Levant, Palestine, and Turkey. It is a truly famous dessert in Ramadan and you can find it anywhere in Egypt and today, there are many types of it including mango kunafa, chocolate kunafa, and even cheesecake kunafa and other types.
Zalabia
It has various names but it is mainly called zalabia or Luqmat El-Qadi. It has various names including loukma in Turkey, meaning mouthful, and in Greece, it is called loukoumades. Baklava filled with Nuts Aish El-Saraya Zainab Fingers, Balah El Sham
Rice pudding
A mixture of rice, water, and milk. The whole ingredients are cooked together, boiled, and then put in the fridge. It is much better to eat this dessert cold not hot. It is not expensive at all which makes it the best and the cheapest Egyptian dessert.
Qatayef
It is a dessert of Fatimid origin and is easy to find during Ramadan. They are mini pancakes soaked in sweet syrup or cream. Nowadays you can find qatayef filled with chocolate cream or custard.
Kahk
An Egyptian dessert that can be found after Eid El-Fitr, which housewives prepare in large amounts as some kind of celebration. It originally dates back to the days of the ancients and it consists of butter cookies stuffed with malban, dates, and nuts, and often sprinkled with white sugar powder. The most interesting thing is that those deserts can be found during the whole year not only in Ramadan but in Ramadan it will be a great opportunity for you to enjoy the most while tasting such tasty deserts in public restaurants & cafés. Other desserts include:
Couscous (كسكسي)
Halawa (حلاوة)
Ladida (لديدة)
Malban (ملبن)
Mehalabeya (مهلبية)
Melabbes (ملبس)
Mifattah (مفتاة)
Here is a list of some popular Egypt soft drinks that you need to try:
Tea.
Mowz bil-Laban/Jawafa bil-Laban
Strawberry/Mango Juice
Qasab (Sugarcane Juice)
Karkade (Hibiscus Iced Tea)
Sahlab
Qamar al-Din (Apricot Juice)
Tamrhindi (Tamarind Juice)
A lot of Egyptians don't drink alcohol in regarding their Islamic traditions, but locally brewed beer is served in higher-end and tourist-orientated restaurants.
The Ancient Egyptian Food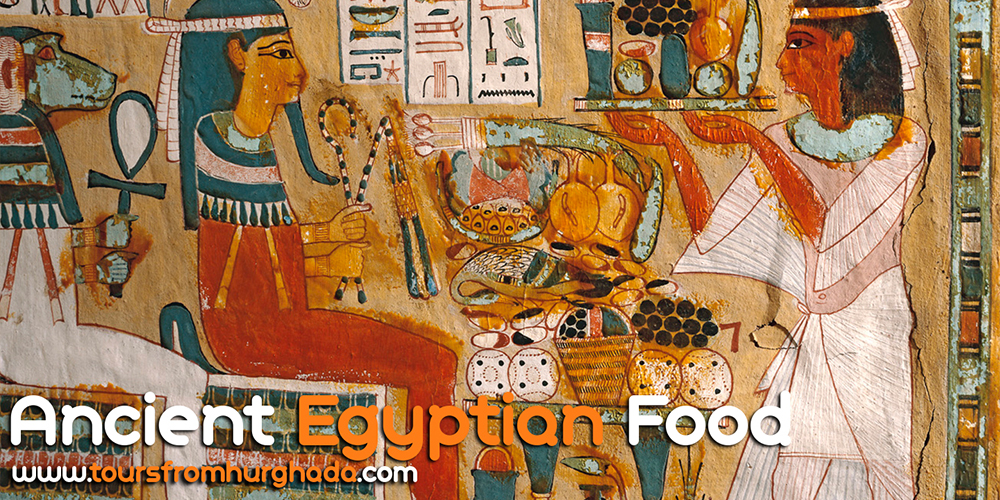 Ancient Egypt was known for its prodigious culture and its terrific life techniques. Although life in ancient life was simple, they had a lot of ingredients to prepare their delicious deals & much of the information about the Egyptians' food comes from pictures on tomb walls, offering trays and foods left in the tombs in addition to a few scrolls of hieroglyphic writing. Their food included: Geese, Swan, Ducks, Quail, Crane, Pigeon, and even Doves and Ostriches in addition to different types of fruits like figs, grapes, and palm nuts. They used to eat vegetables including onions, garlic, leek, lentils, cabbage, radish, turnip, lupines, tomatoes, and cucumber. In Egypt beer was a primary source of nutrition through the 18th dynasty with both red and white wines available to common people.