"Tours From Hurghada" - Your Gateway for Red Sea Holidays & Excursions
Traveling is a transformative experience that broadens horizons and enriches lives. At toursfromhurghada.com, we believe that everyone deserves the chance to explore the world and discover its wonders. For the past 15 years, our travel agency always committed to making this dream a reality for our clients, by connecting them to the tropical allure of the Red Sea and the immortal miracles of Ancient Egypt.
Our mission is simple: to provide excellence, affordability, flexibility, and total satisfaction during every tour. As one of the finest travel agencies in Hurghada Red Sea, we specialize in customizing all kinds of holidays and tours, from small group tours to fully customized excursions. Whether you're looking for a day tour or a longer trip, we offer a wide range of options to suit every budget and preference.
We pride ourselves on providing affordable lifetime tours and excursions from any coastal site in the Red Sea, including Hurghada, Marsa Alam, El Gouna, Port Ghalib, Soma Bay, and Makadi Bay. Our tours cover the most famous attractions in Egypt, such as Cairo, Luxor, and Aswan, as well as other magical destinations. We offer a diverse range of experiences, including Nile cruises, Luxor & Aswan excursions, Safari, Diving & Snorkeling tours, and more.
At toursfromhurghada.com, we are committed to providing the most professional, comfortable, and memorable travel experiences possible. Our website has been carefully designed to reflect reality and exceed expectations, and our customer service team is always on hand to help. We work with top-rated hotels, transportation providers, and tour guides to ensure that our clients receive the best possible service.
One of the keys to our success is our team of multilingual travel consultants and tour operators. With years of experience in the travel industry, they have the knowledge and expertise to create unforgettable travel experiences for our clients.
At toursfromhurghada.com, we believe that travel is more than just a vacation. It's an opportunity to discover new cultures, make memories, and grow as a person. Let us help you make your travel dreams a reality.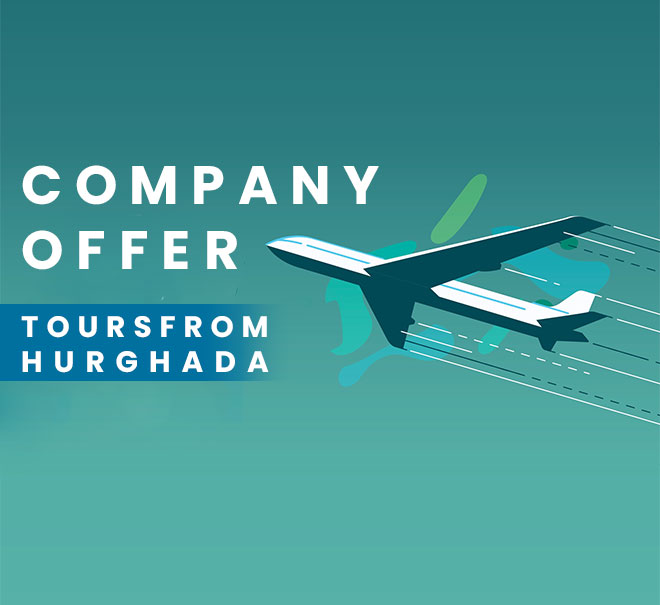 What is the Company Offer?
The company is famed for offering a variety of options that include well organized holiday packages and vacations to the top coastal sites of the Red Sea like Hurghada, Marsa Alam, El Gouna, Port Ghalib, Soma Bay, and Makadi Bay, mixed by excursions to the top destinations of Egypt like Cairo, Luxor & Aswan which shed some light on the historical and archaeological wonders of ancient Egypt.
We also offer Super Safari, Nile Cruise, Diving & Snorkeling tours, and incredible excursions to every possible beautiful destination in Egypt from the Red Sea. All of our travelers whether they are spending a day or a hundred always receive the finest service and live the best vacation or excursion you can imagine. Our company has established itself as the voice of devotion, hospitality, and brilliance when it comes to making an enchanting unique everlasting travel experience. Our goal will be to provide the best service in terms of efficiency & satisfaction at very reasonable prices.

Our Clients Reviews and Feedbacks
Every single word and sound from our clients is the ultimate evidence of our level of excellence and dedication. The reviews of Tours From Hurghada on Tripadvisor from our incredible customers fully describe the amazing service and the level of professionalism they received from the tour guides, Tour operators, the hotels, transportation, and other services.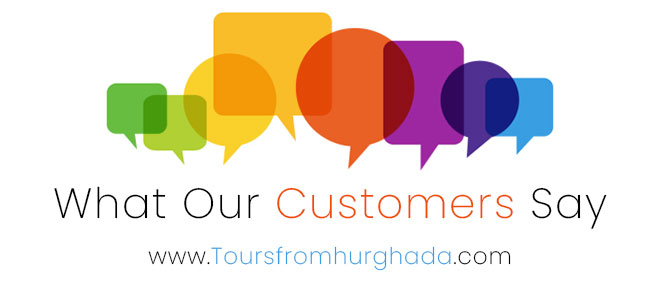 What Gives You Confidence for Booking With Us?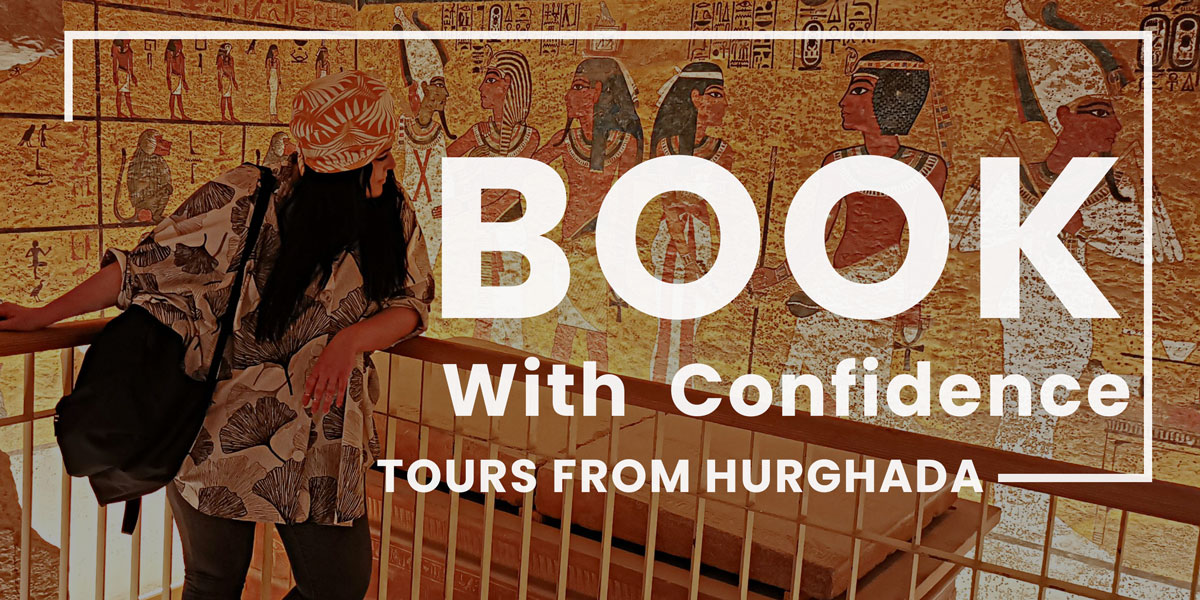 There are countless reasons to book with confidence with us such as:
Specialization
Tour from Hurghada specializes in creating magical holiday packages, day tours, and excursions in or to or from Hurghada, Marsa Alam, El Gouna, Port Ghalib, Soma Bay, and Makadi Bay to all the majestic destinations of Cairo, Luxor, & Aswan in the most professional, affordable, comfortable, memorable manner. We are by far the best travel agency found in Hurghada specialized in the field of Egypt Red Sea tourism. We guarantee that all our customers will live their dream vacation or excursion within Egypt using more than 15 years of experience.
Reputation
Over the years our company has gained a tremendous reputation and established itself as the voice of devotion, hospitality, and brilliance for providing the ideal service in terms of efficiency & satisfaction starting from the magical shores of the red sea in Hurghada. Being one of the finest for providing the best amazing service and the level of professionalism experienced through our tour guides, transportation, and other accommodations.
Quality
Our positive reputation and success come from the sole reason that all of our tours are constructed and customized by highly experienced travel and time management consultants to make sure everyone is enjoying every moment of their time your dream with the most efficient services and affordable services. Our great quality comes from our dedication to making everything they need from A to Z at your disposal at any time.
Communication and Staff
Tours from Hurghada is equipped with the most professional and highly qualified tour operators who will handle all means of communication in English, Spanish and other languages. All of our staff from tour guides, tour operators, to drivers are fully trained in customer relations both on & off the ground and experienced to handle any situation to guarantee high-quality service.
Security
All of our holiday packages, day tours, and excursions are capable of flexibly adjusting to fit every customer's needs at any time. Our support team and 24/7 customer service are just one phone call away at any time via our various means of communication. Always keep in mind that all the personal information of our clients will be secured to the highest degree.
Prices
Tours from Hurghada are made for budget travelers who want to enjoy the best of the best at the finest prices. We dedicate our efforts to offering all travelers the chance to explore all the ancient attractions of Egypt at very reasonable prices so everyone from all over the world can live their dream vacation for very affordable price tags while enjoying the finest accommodation, transportation, and activities.
What Makes us Different?
Tours From Hurghada is built on the principles of dedication, effectiveness, and making dreams into reality at very affordable prices. All our elements from great professional staff, to incredible facilities, to excellent partners, are created to provide the best of the best, make every single client feel as if they are the center of the world plus customize a safe & relaxing atmosphere filled with tranquility and excitement.
Vision and Mission
Tours from Hurghada's ultimate vision include providing every adventure seeker with a heavenly mixture of tropical beauty and historical greatness. For the past 15 years, Tours from Hurghada has been on a mission to be the most professional travel agency in Egypt and produce the most ideal levels of professionalism, safety, Care, and accuracy plus the most magical memories in every traveler's lifetime.
Our Core Values
Tours from Hurghada follows a set of ethical laws based on the foundation of honesty, dedication, integrity, innovation, and perseverance in order to keep moving forward and provide our clients with the most professional and respectable service during their time in Egypt.