Vision and Mission
Tours from Hurghada is a highly trusted travel agency that came to be in 2004 which offer travelers from all over the world to customize their dream excursion from the shores of the red sea to the heavenly treasures of Egypt that shine a bright light filled with glorious history, diverse culture, and enchanting natural attractions.
Our Website contains a high number of tours that comes in different types and properties that will fit the request of all our clients plus we offer our customers the chance to customize their own ideal tour. We make sure to update all our products with new attractions and activities plus provide new offers with incredible rates to help our guests witness the blessed allure and miracles of Egypt to live the best time of their lives.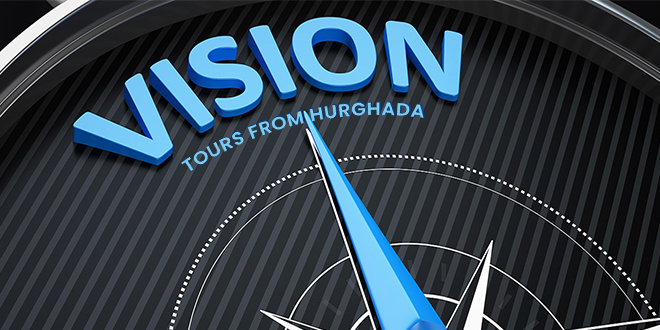 Our Vision
"Tours from Hurghada" vision is to provide any kind of tours and excursions from any city or resort in the Red Sea to the historical attractions and cities of Cairo, Luxor, Aswan, and Alexandria plus customizing holiday packages in and combined with the Red Sea resorts. Tours From Hurghada Travel Agency offer a golden path leading from the natural tropical miracles of the red sea to the divine historical and cultural wonders of Egypt's immortal cities which are Cairo, Luxor, Aswan, and Alexandria. We work hard to perfect our products, tour itineraries, and launch a new wave of tourism innovation to open the eyes of every true explorer to the eternal wonders of Egypt. Our Vision and our great sense of dedication make us the finest travel agency found in Egypt and Red Sea.

Our Mission
Tours from Hurghada's core mission is to reach the highest level of professionalism and effectiveness. We make sure that all our clients are enjoying the ultimate care and the most satisfying service during their time in Egypt. We make a strong dedication to commit to sustainable tourism and create the most fitting and magical tour itineraries which will include all the needed information such as all the reservations, attractions, staff, arrangements, payments, and everything else in a highly efficient manner.