What Was Aswan Called Anciently and Its Position?
Aswan City was called Swenett, and later as Syene during Ancient times, which means the market. The city of Aswan was a trade center between Egypt and the Southern Lands. Further, it acted as Egypt's front lines to the heart of Africa, that's why it played a key role in launching various expeditions to many African lands. The city was also blessed with a lot of natural resources, like sandstones, granite, and quartzite. Plus, it has the largest stone quarries in ancient Egypt, which were used in constructing various artifacts and monuments, like obelisks, pyramids, tombs, and shrines through the different time periods of ancient Egypt.

Aswan Location, Weather, and Best Season to Book
Aswan City is located on the Eastern Bank of the Nile, 890 KM (553 M) South of Cairo in Upper Egypt, 220 KM (137 M) South of Luxor, which is, by far, the largest city. Winter, Spring, and Fall, from September to March, are three seasons when you can explore Aswan in a smashing tour. It's safe to say that Aswan in Winter takes the traveler more than necessary to absorb the distinctive vibes that only an extreme city such as Aswan can provide! In Fall, Aswan City let natural orange roll in the air to splash the atmosphere, all the while surrounded by pretty chilly-yet-warm and breezy weather! The city in Spring rubs its decently warm temperature against the travelers' skin who'll be busy watching the city flourish into levels of green! However, Spring and Winter have the best states of weather that host the highest rates of travelers in them!

When Did the City Gain More Popularity?
Aswan City was able to gain a considerable amount of popularity throughout the 60s, after the construction of the Aswan High Dam led to the possible destruction of the Great Abu Simbel Temple and Philae Temple. Hence, thanks to UNESCO's effort, the temples were saved in the most challenging architecture rescue mission in history! The entire city was considered one of the UNESCO Creative Cities Network in the category of folk art and craft.

Places to Go in Aswan City
Episode after another, the history of Aswan City does not stop fascinating whoever googles about it, let alone being welcomed between the personifications of such history, in flesh! Aswan landmarks have facts about them that'll make your brain cells trip over while trying to take in every detail offered about any of them, due to how much those details are and what great value lies behind them! Not only the city's milestones have managed to save a whole department in ancient Egypt's history, but also will save a place for their greatness in your heart! The following are the most prominent Aswan landmarks with a wide reputation among travelers:
1. Abu Simbel Temple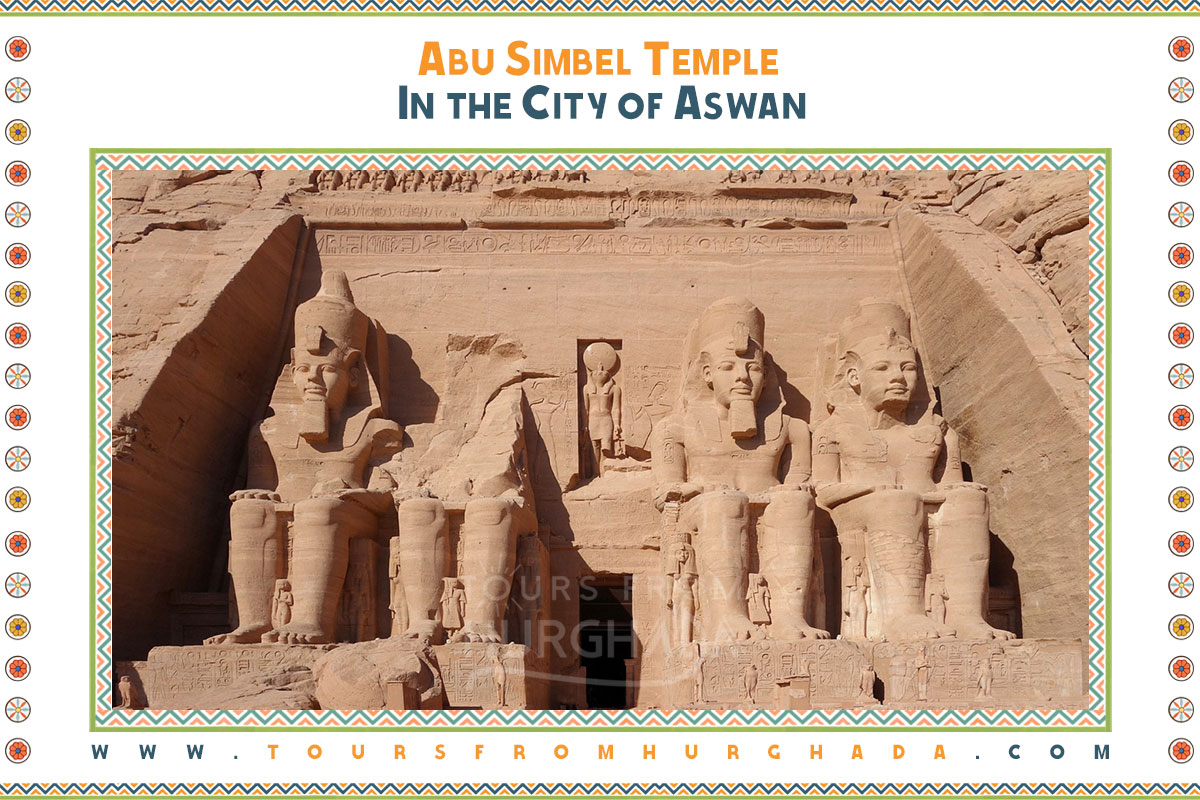 The Temple of Abu Simbel consists of two temples, that were constructed around 1224 BC by King Ramses II to honor the sacred gods, who are Amon, Ptah, Re-Hor-Akhty. It was built to immortalize his legacy of great achievements and victories, like his triumph at the Battle of Kadesh, against the Hittites in 1274 BC. It, also, showcases the king's affection for his beloved wife, Nefertari. The temple is celebrated on the 22 of February and October when the light enters the temple to illuminate the temple and the faces of the gods in a phenomenon called Abu Simbel Sun Festival!
2. Philae Temple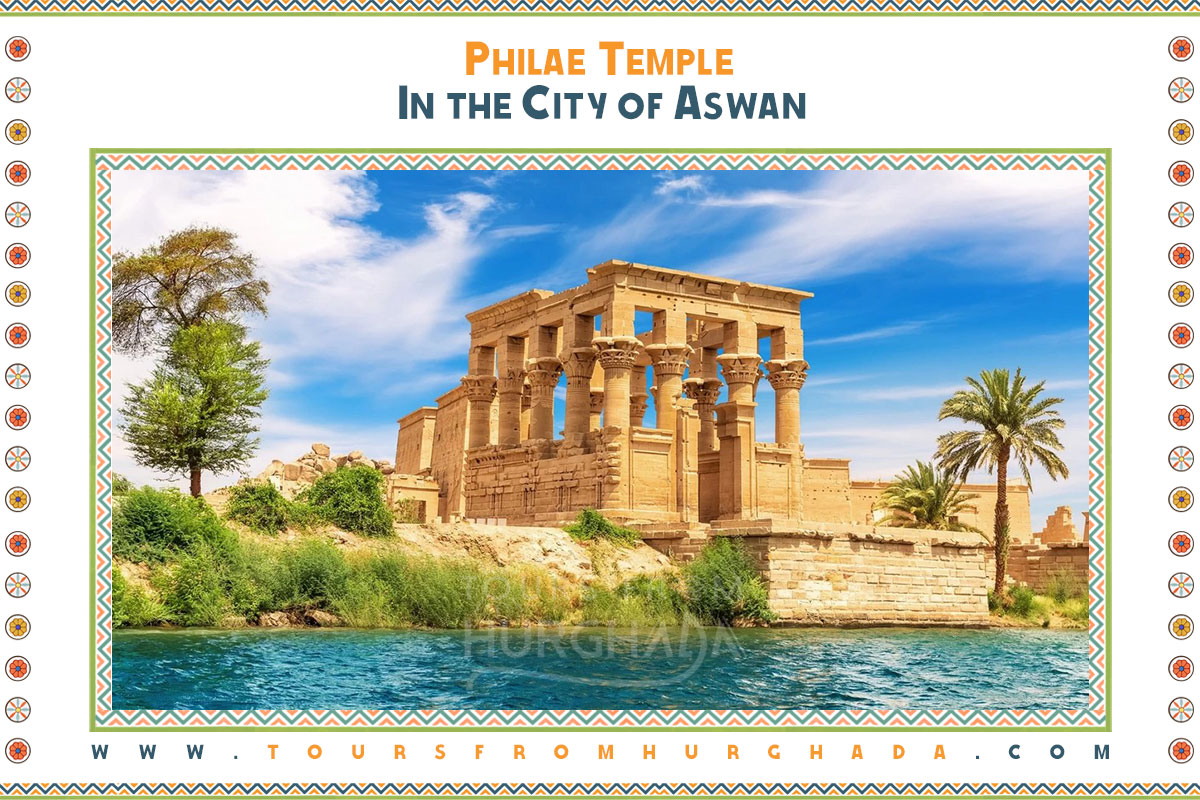 Philae Temple was built in the Greco-Roman Period in 690 BC.it was erected as the worship house of Isis, Goddess of Motherhood & the wife of Osiris, and mother of Horus! If it was for the huge efforts of Taharqa or Psamtik II, Philae Temple would not have been given birth to provide travelers' eyes with sophisticated valuable scenes about the goddess! The temple has scenes depicting Osiris resuscitated back to life by Isis on one hand, and other ones display the Motherhood Goddess bringing God Horus to life, on the other hand, all the while applying mummification to Osiris, preparing him for the after-death!
3. Edu Temple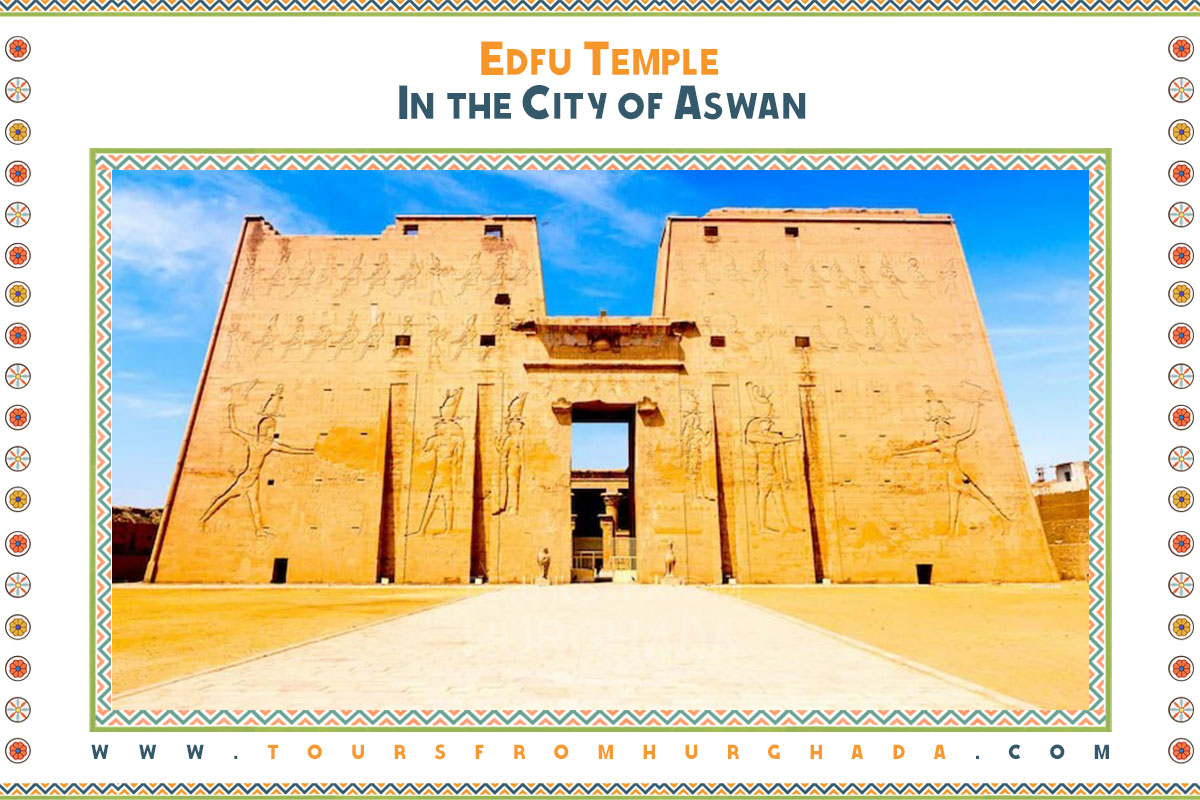 One of the immortal monuments that should not be missed is Edfu Temple or "The House of Horus"! The temple was constructed in the Ptolemaic Period, between 237 BC and 57 BC. Further, it was constructed in a location that is believed to be where the battle between the Sky God, Horus, and his evil uncle, Set! It completely rose to the world through Ptolemy XII Auletes' efforts. The temple is an extraordinary constructional gem whose walls contain what's related to the myths, religion, civilization, and language during Egypt's Hellenistic Period, that has gained lots of watchful stares from its temple visitors!
4. Kom Ombo Temple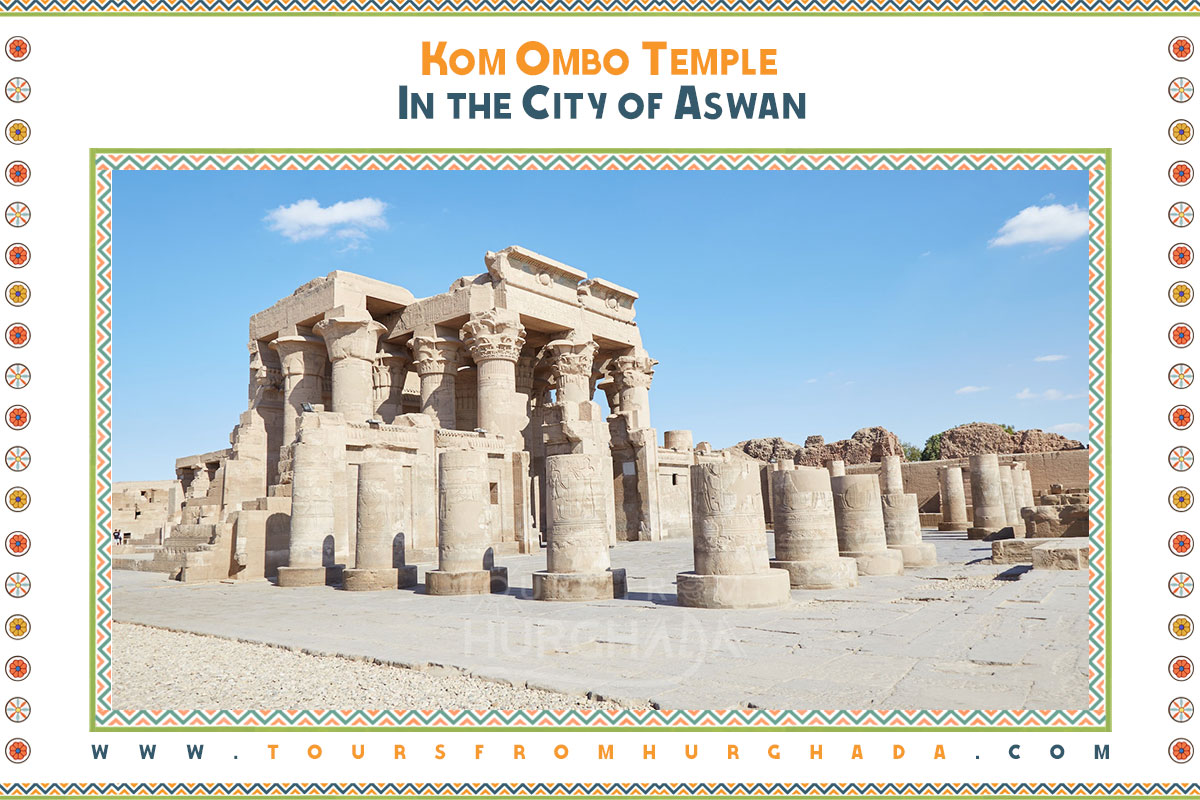 The close connection between the Nile and Aswan City led to the creation of the Kom Ombo Temple in the Ptolemaic Dynasty, between 180-47 BC. The temple was built by the hands of Ptolemy V. Also, Kom Ombo Temple, A.K.A, the Temple of Sobek, commemorates the Crocodile God, who believed his tears take home in the Nile waters. Part of the resonating reputation the temple acquired, throughout the years, has revolved around its interiors and exteriors of two sanctuaries, courts, and halls belonging to two gods, honoring the Sky God, Horus, as well!
5. The High Dam
Aswan High Dam is believed to drizzle the Egyptian Economy with limitless assets and profits, which is an assumption that cannot be proven any more right! The dam was structured in the 1960s with high willpower behind it! It was built to seek the assurance of all Egyptians, especially the peasants and farmers, with its irrigation rate that it takes good care of the cultivated lands with! Moreover, the dam was brought to life thanks to President Gamal Abd El Nasser! It's a real winning lottery for Egypt that opened a door to a new level of wealth that got to make a lot jealous!
6. The Unfinished Obelisk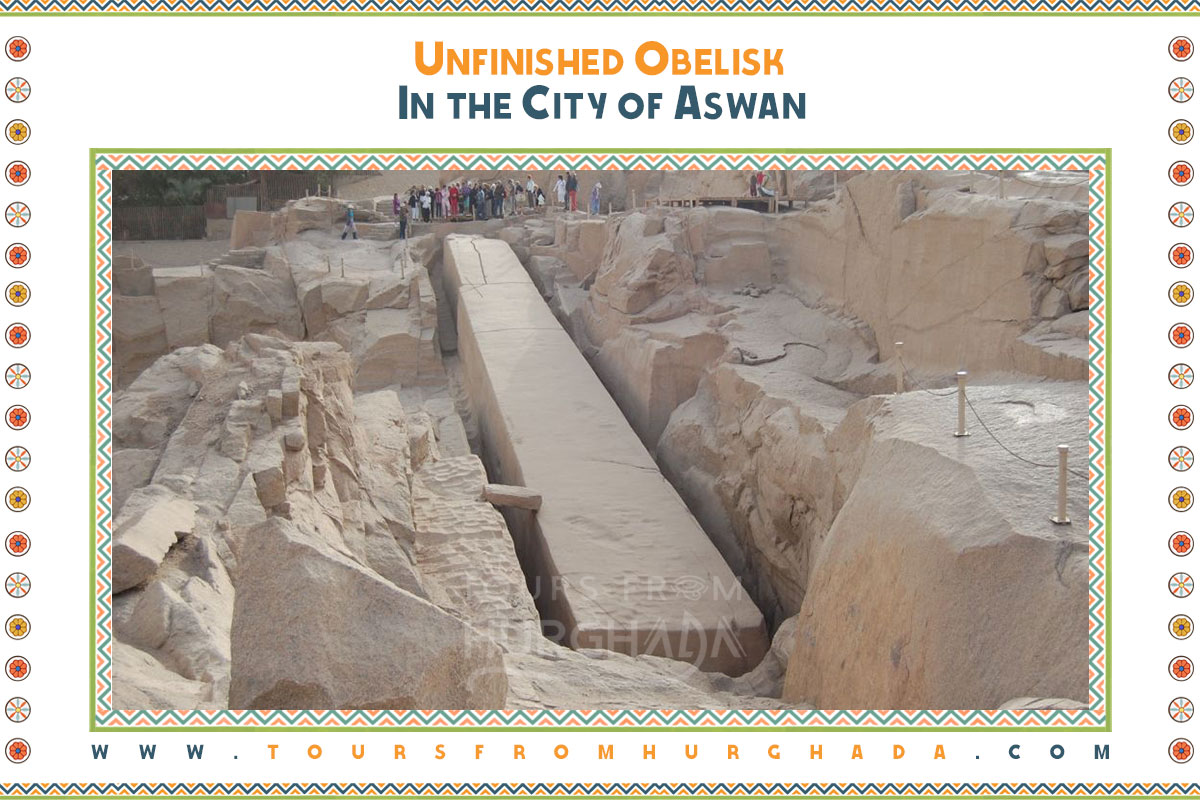 Queen Hatshepsut, who reigned between 1507 BC and 1458 BC, ordered the construction of a massive obelisk, that was broken and remained in its palace to become known as the Unfinished Obelisk of Hatshepsut! "Aswan City Owns the Largest Obelisk in the World" would have been an extra authentic line written in Aswan's history if the obelisk had been completely put into construction! Albeit not totally constructed, it's one of the sites that got the world to build a stronger bond with the ancient civilization of Egypt after fresh traces of the ancient builders' tools were found in the obelisk!

How to Get the Best of Your Trip in Aswan
Whatever level of uniqueness your trip inside Aswan historical attractions hit, still your senses will be in need of an activity or two from the city's activities to add a feather-light touch to your mood after being under the effect of the intimidating, great and powerful atmosphere of its landmarks. Among the advantages that come with the city's activities is fitting the travelers' different tastes and methods of entertainment! Here, we offer you a few suggestions of activities you can have while being there:
Blend with the Nubians and Their Intriguing Culture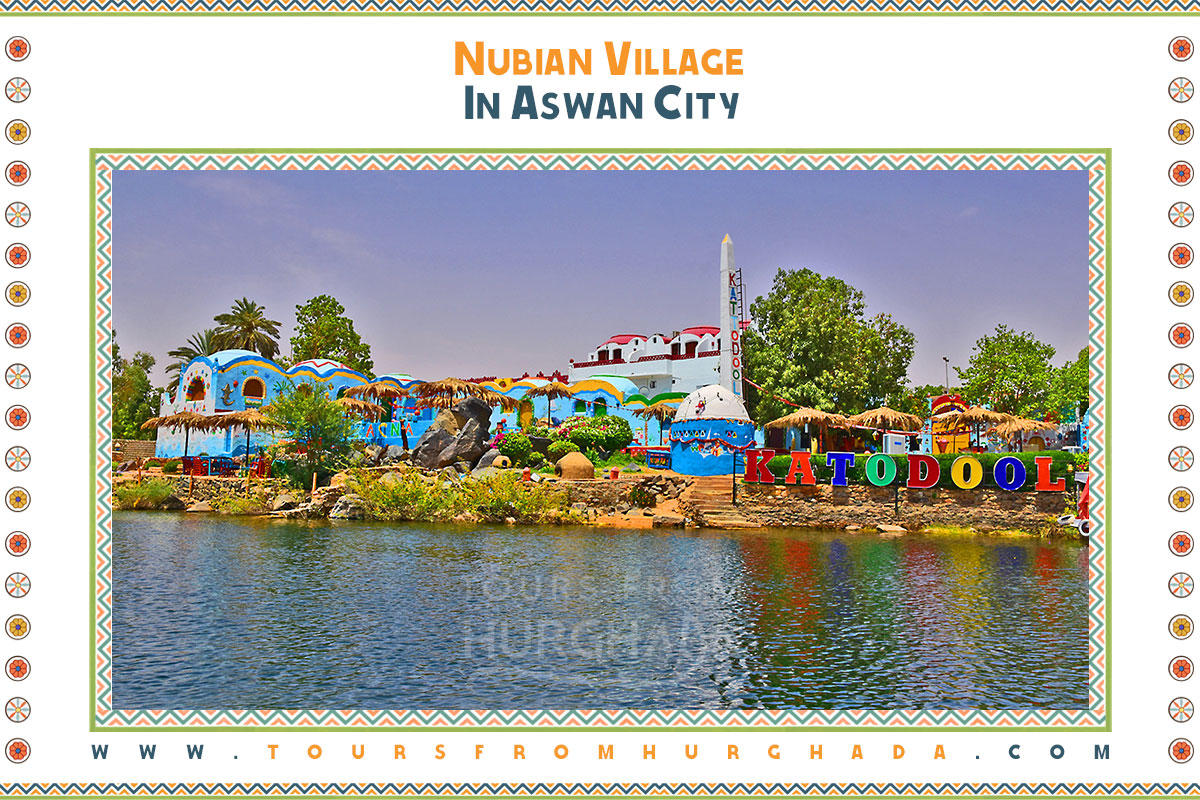 The Nubian village is nestled in the West Bank and it's one part that depicts the full image of Aswan's culture in one go! Being a village with just 100.000 souls and a low rate of population, the Nubian Village has proved that people can always act as one, together through the ups and downs no matter what, which is a thing you'll sense and see so many indications of during your tour there!
However, those are people with quite unique traditions and a culture that's not something you'll not hear about every day! Whereas all Egyptian follow a pretty simple style of decoration in their places, comes the Nubians with their mummified-crocodile decoration hanging on their doors' threshold to intrigue the travelers' curiosity. Crocodiles to Nubians has one certain epiphany; protecting the householders from the Evil eye, which is among the conspicuous customs you'll hear about during your visit!!
Have a Nile Cruise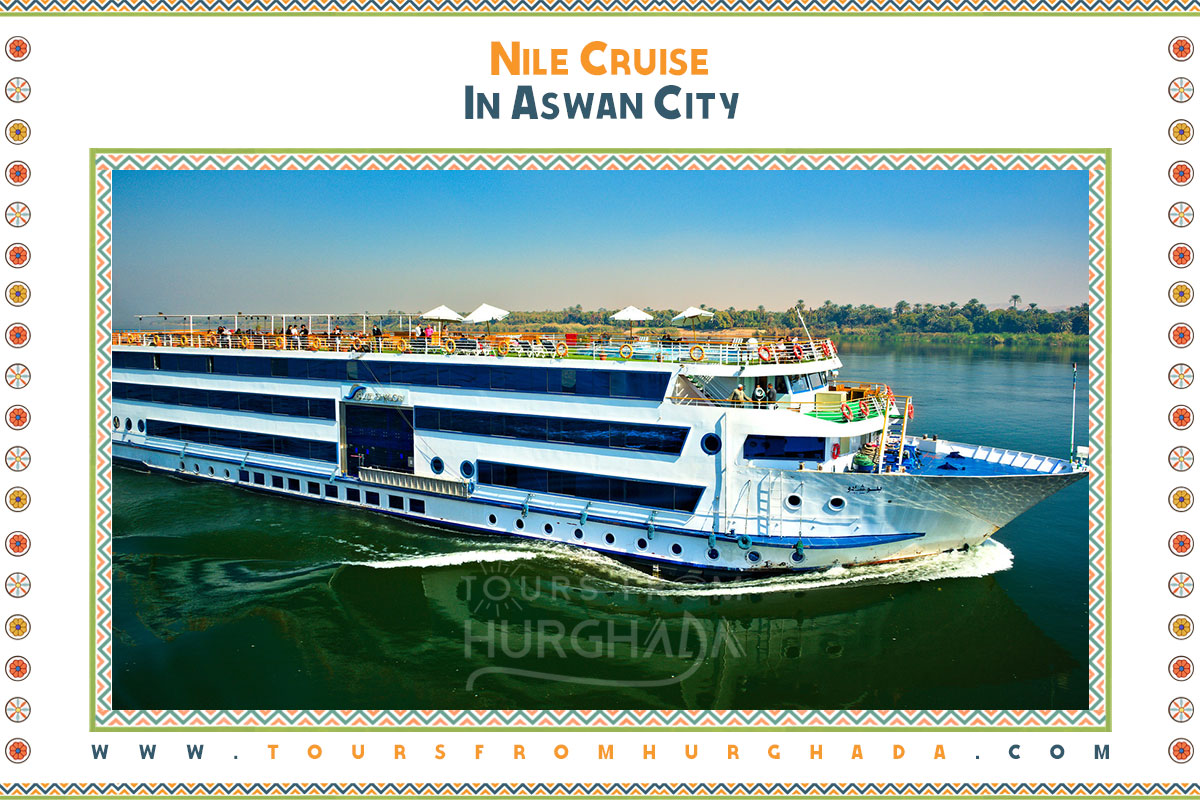 Having a Nile Cruise swinging in a slow dance with the Nile River while being guided by its flow will set your spirit free and cut your train of any disturbing thoughts! You'll feel like some nightingale soaring in the sky carefree in a resuscitating tour! Even more, the Nile Cruise will offer you a tour defined by so much greatness and many mysteries about the ancient civilization of Egypt. Throughout the trip, you'll catch yourself trying to decode one after another those ancient mysteries portraited in Aswan landmarks while the Nile River warps its fresh air around you! In addition, the Nile Cruise's fine amenities, from the swimming pools and suntanning facilities as well as the dry laundry services and more included there, will fill any gap of boredom you might feel during your stay!
Go Shopping at Aswan Souks and Malls
Going shopping and buying souvenirs is one thing you need to pin your memories about a trip to your mind whenever they seem to slip from between its every cell! It's a step to take that'll make it easy to remember and revive the so many adventures you had there, in your head, which you'll have lots of these in Aswan! The city has many shopping areas, from local souks and luxurious malls to street carts! It's the home for cooking enthusiasts with so many species shops there and the best option for Egyptian culture lovers with ancient artifacts and traditional costume shops! Not to mention the Arabian-scented perfumes and fragments there!
Camel-trekking at Aswan's Western Bank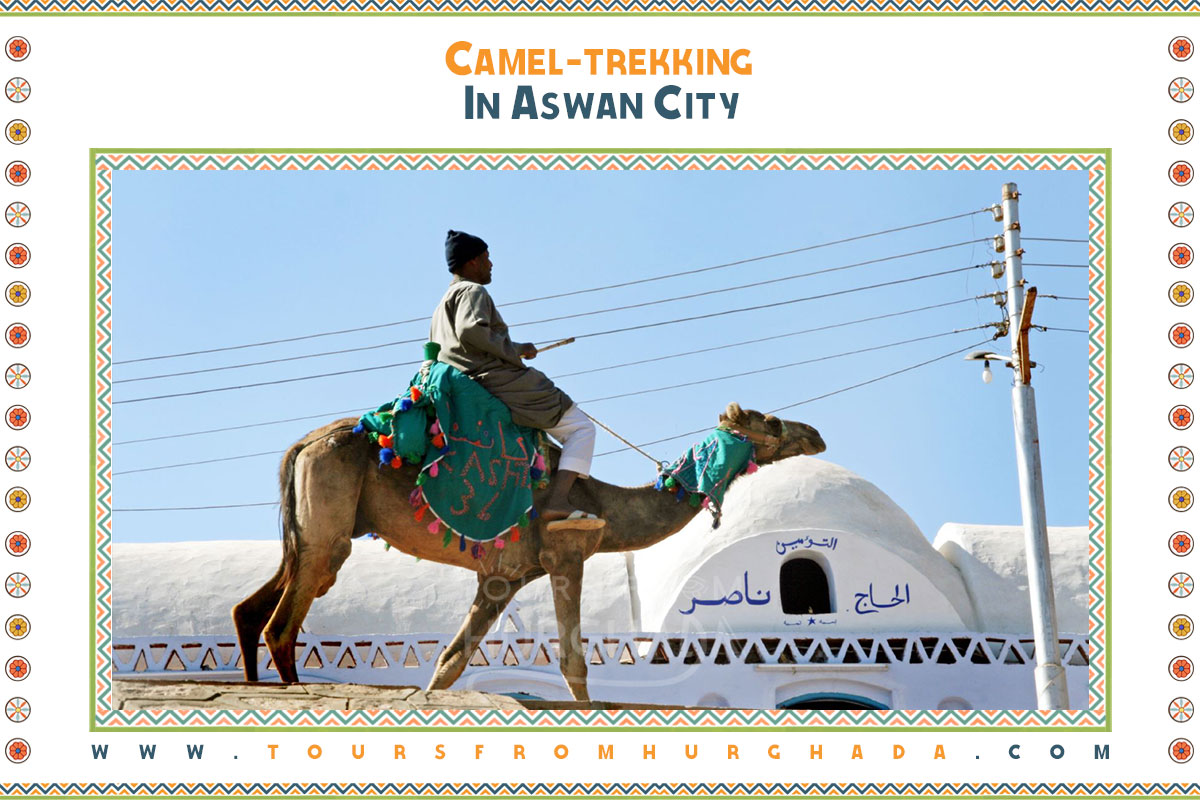 A wild roller coaster wherein the desert takes care of you must be included in your tour itinerary! A camel trekking framed by the wavy sands of the Eastern Sahara and the zigzag manner its dunes follow, from the Tombs of the Nobles all the Way to the Monastery of St. Simon, is for sure an advanced level of adventure for the wildness lovers! It's a one-hour trip that's better to be in the very first hours of daylight to avoid the burning sun! You can hire yourself a camel near the ferry at the Tombs of the Nobles, and on your way back, you can have another near the Monastery at the felucca landing-pie!
Visit Aga Khan Mausoleum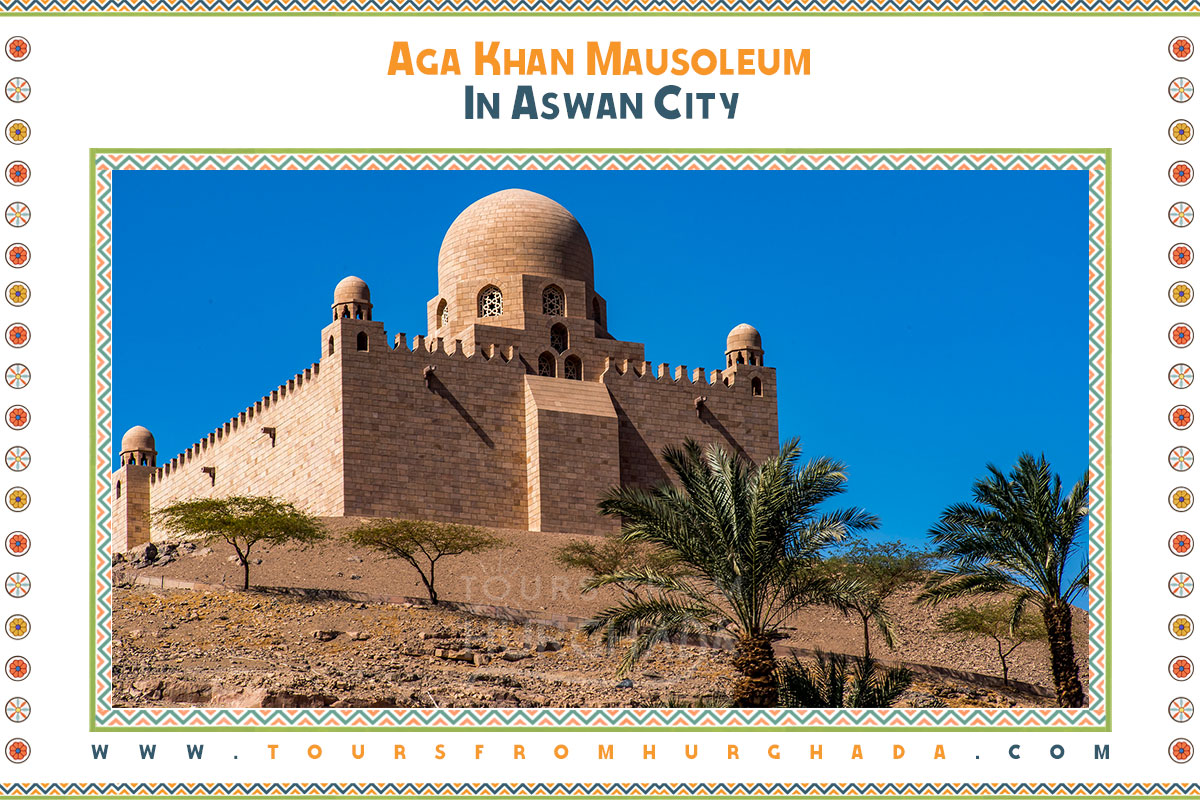 This time, your trip will be a heart-whelming one that'll turn you into a proud and honored admirer! All and more you'll feel seeping from your heart towards Sir Sultan Muhammad Shah, A.K.A, Aga Khan whose name is brought up whenever charitable acts are a topic to discuss! Needless to mention his dominance in providing different centers of education and medicine in Africa all the way to Asia! He also invested a great share of effort in Indian partitions! Being born in Karachi did not mind the sultan going on a summer vacation in Aswan!

Tips to Treasure Your Trip in Aswan City
Treasuring a trip is a process you need to plan for so that whenever your trip's memories itch your brain to resurface, you find no place of regret between them, only appreciation that'll draw a smile on your face at whatever memory there! However, treasuring a trip takes so many forms, each of which will make your mind's cells race to grab at their share of good memories you would create on the trip! A good factor to be loaded with heavy terrific memories back home is sharing your moment with your partner, which will double the trip's effect in your mind! Thus, we set even more tips that are qualified for turning your tour into a mine of gold:
Buy souvenirs.
Get on a Felucca.
Have your camera on you.
Travel with your beloved ones.
Grab a bottle of water and stay dehydrated.
Pack light.
Stay safe.
Hear more from your guide.
Try the city's food!
Our tour operator is strong-minded with an invincible attitude in setting fabulous tour plans for travelers, all with offered deluxe facilities! As, a traveler making up their mind on a trip means Tours from Hurghada travel agency won't bat an eye until finding them a place between the stages of elegance the said trip will offer! We have always kept numerous travelers on their toes in anticipation of what's new and thrilling to come, most importantly, the tours we offer in Aswan! Booking Aswan tours from Hurghada with us won't get you anywhere but exploring the roots of ancient Egypt, so what are you waiting for!