The Muhammad Ali mosque a.k.a The Alabaster Mosque was able to perfect the impossible formula of majesty and allure. It is considered to be one of the most beautiful constructions in the immortal city of Cairo. It is located inside the powerful Cairo Citadel about 7.5 miles away from downtown. It's construction process began by the ruler of Egypt Muhammad Ali between 1830 and 1848 AD at the beginning of the Egyptian Renaissance to be a house of worship and his final resting place.
History of Muhammad Ali Mosque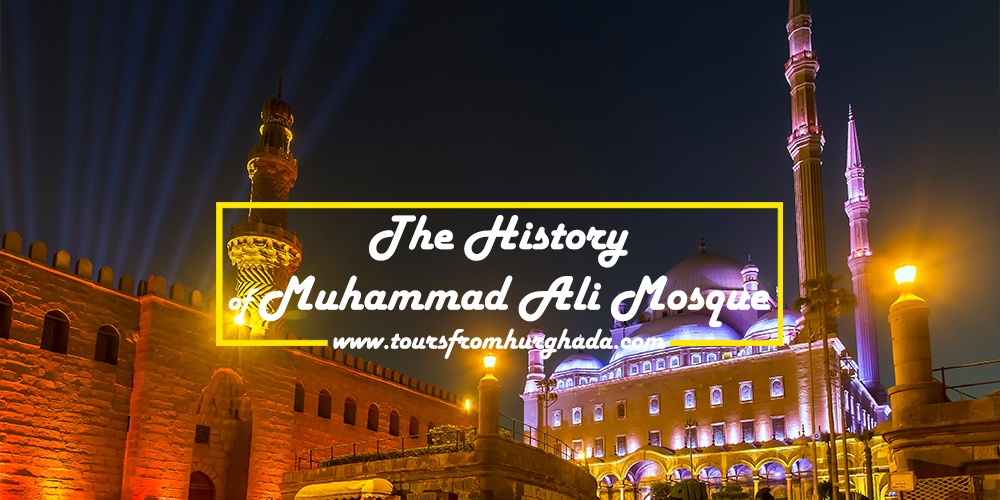 When Muhammad Ali took power in Cairo in 1800, he worked on reshaping the Cairo citadel's design to fit his own personal vision and to his own landmark to immortalize his legacy.
He ordered an architect called Yusuf Bushnaq to construct a Muhammad Ali mosque resembling sultan Ahmad mosque in Istanbul, which took 18 years to build and was restored by King Fuad in 1931 and once again in 1939 by King Farouk with the total cost of 100,000 LE (equal to about $560.00 USD).
The Purpose of  Muhammad Ali Mosque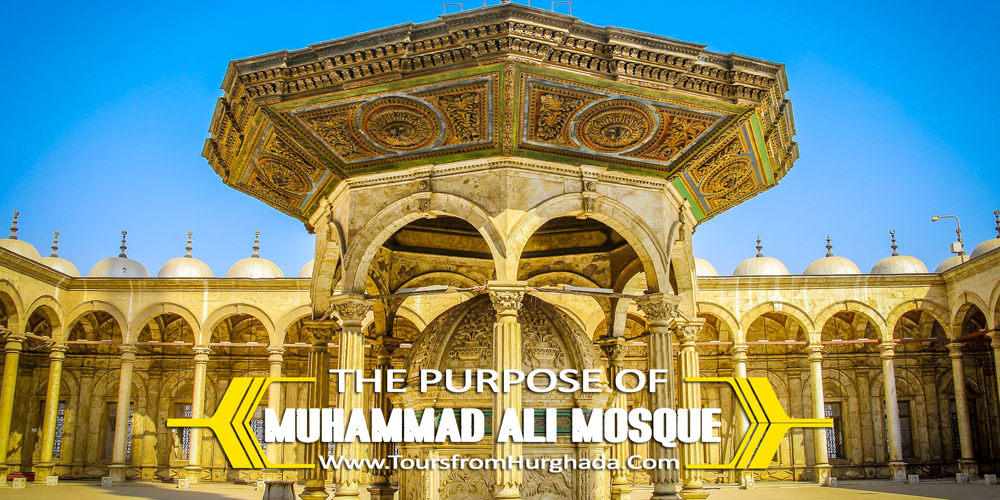 Muhammad Ali constructed the mosque with two minarets as a manner to defy the ottoman kingdom because the royal law prohibited anyone except the sultan from constructing a mosque with more than two minarets which he used to showcase his desire to rebel and free himself from the Ottoman rule, this proves Muhammad Ali mosque historical importance as it wasn't a mere house of worship but symbol for freedom.
The Architecture of Muhammad Ali Mosque
Muhammad Ali mosque gained the title of "The Alabaster Mosque" for the extensive use of marble on the exterior & interior walls. The mosque has a rectangular shape and consists of two sections, the western section called the courtyard and the eastern section called the house of prayer.
Muhammad Ali mosque depended on an elegant ottoman style of architecture and the interior contains French rococo influences with enchanting finishes of ornate of red, green and gold. It was built in a square plan measuring exactly 41x41 m and with a hypnotic central dome surrounded by four small semi-circular domes.
The Construction of Muhammad Ali Mosque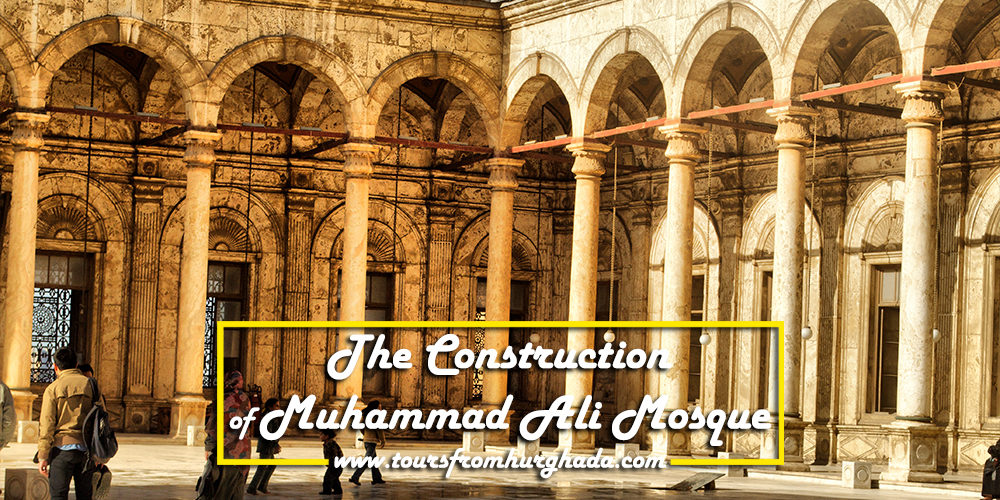 The main material used for the construction of Muhammad Ali mosque is limestone and the forecourt is covered with Alabaster plus the inner and outer walls are covered with shining marble.
The house of worship contains a breathtaking golden-scalloped mihrab and two majestic minarets that reached the height of 82 m, made of Alabaster and decorated in Nouveau style. Its central dome is 21 meters in diameter and 52 m in total height, rises on four arches and surrounded by four smaller domes decorate in religious medallions.
The courtyard is about 54 m in length and 53 m in width and is surrounded by a single arched Riwaq, and showcases naves raised on pillars and roofed with small domes.
Components of Muhammad Ali Mosque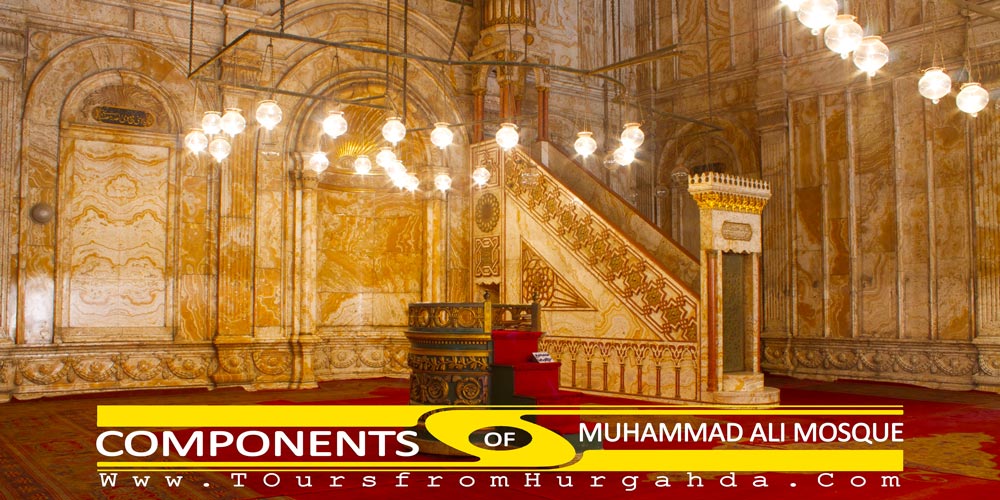 Muhammad Ali mosque has an ornate brass clock a gift from King Louis Philippe of France to Muhammad Ali in 1845 in exchange for an obelisk which stand in the Concorde square in Paris till today and a Turkish ablutions fountain that truly resembles a giant Easter egg. The mosque holds the tomb of Muhammad Ali which is made of Carrara marble and located in the courtyard of the mosque on the right side of one of the three entrances behind a bronze grill.