Muhammad Ali Mosque was able to perfect the impossible formula of majesty and allure. It is considered to be one of the most beautiful constructions in the immortal city of Cairo. It is located inside the powerful Cairo Citadel about 7.5 miles away from downtown. Its construction process began by the ruler of Egypt, Muhammad Ali, between 1830 and 1848 AD at the beginning of the Egyptian Renaissance to be a house of worship and his final resting place.
You'll never know how much of grandiose site the Mohamed Ali Mosque is unless you smell its air and brush its details with your fingertips. It's a revolutionary movement Sultan Mohamed Ali took to upgrade the position of Islam even more!!

Mohammed Ali Mosque History and Etymology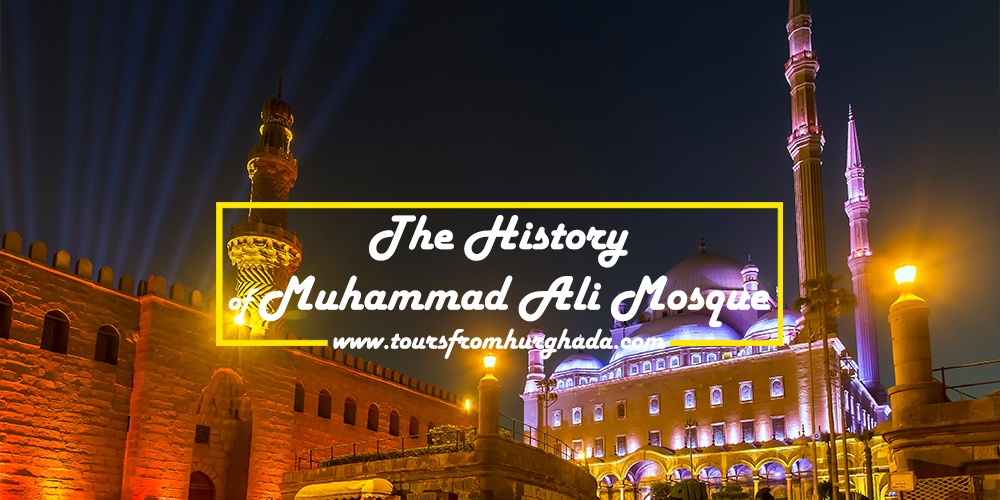 When Muhammad Ali took power in Cairo in 1800, he worked on reshaping the Cairo Citadel's design to fit his own personal vision and to his own landmark to immortalize his legacy. He ordered an architect called Yusuf Bushnaq to construct a Muhammad Ali Mosque resembling the Sultan Ahmad Mosque in Istanbul.
The latter took 18 years to build and was restored by King Fuad in 1931, then, once again, in 1939 by King Farouk with a total cost of 100,000 LE (equal to about $560.00 USD). Guess that's another piece of evidence of the various sites of glory and peace Egypt has always owned. The mosque is a perfect gift the sultan set for Muslims and those who have an interest in Islamic Culture.

The Royal Law's Impact on Mohamed Ali Mosque
Muhammad Ali constructed the mosque with two minarets as a manner to defy the Ottoman Kingdom. Back then, the royal law prohibited anyone, except the sultan, from constructing a mosque with more than two minarets, which the sultan used to showcase his desire to rebel and free himself from Ottoman rule.
Muhammad Ali Mosque has historical importance, as it wasn't a mere house of worship but a symbol of freedom. It's a site so incredible that minutes will be slipping by real quick during your exploration inside for the immersing highly-classic details it was built with!! The mosque fills the gap between the traveler's curiosity and his wish to know more about the Islamic curriculum.

Muhammad Ali Mosque Architecture
The title of "The Alabaster Mosque" was engraved in the history of Mohamed Ali Mosque for the extensive use of marble on the exterior & interior walls. So, googling information about Muhammad Ali Mosque is just not enough, you need to witness every slightest detail in the thick of it. The mosque has a rectangular shape and consists of two sections, the western section called the courtyard and the eastern section called the house of prayer.
Muhammad Ali Mosque depended on an elegant Ottoman style of architecture. Its interior contains French rococo influences with enchanting finishes of ornate red, green, and gold. It was built in a square plan measuring exactly 41x41M and with a hypnotic central dome surrounded by four small semi-circular domes.
The main material used for the construction of the Muhammad Ali Mosque is Limestone and the forecourt is covered with Alabaster. The inner and outer walls are covered with shining marble. The house of worship contains a breathtaking golden-scalloped mihrab and two majestic minarets that reached the height of 82 M, made of Alabaster and decorated in Nouveau style.
Its central dome is 21 meters in diameter and 52 M in total height and rises on four arches. It's surrounded by four smaller domes decorated in religious medallions. The courtyard is about 54 M in length and 53 M in width and is surrounded by a single-arched Riwaq. It showcases naves raised on pillars and roofed with small domes which are among the most significant facts about Mohmed Ali Mosque.

The Bond between King Louis and Mohamed Ali
Being a Muslim did not block the way for Mohamed Ali from building a special bond with other Cultures. During his reign, he was always careful to think ahead to find support whenever he needed it. It's a mindset that was followed by other worldwide rulers as well. The sultan has an ornate brass clock a gift from King Louis Philippe of France to Muhammad Ali in 1845.
It was in exchange for an obelisk that stands in Concorde Square in Paris till today and a Turkish ablutions fountain that truly resembles a giant Easter egg. The mosque holds the tomb of Muhammad Ali which is made of Carrara marble and located in the mosque's courtyard on one of the three entrances behind a bronze grill's right side.

Mohamed Ali Mosque Will Never Bend to Time
You know a glorious site when you see one. And Muhammad Ali Mosque has always held infiltered glory in it from the very beginning. It's like the mosque never pat an eye since it was last constructed. Its blinding spark never fades; it still reflects serenity with its original value still resorted. Neither the luxury of the mosque's limestone will lose against time nor surrender to its claws.
The thing is the mosque is not only about a bunch of stones put one after another, and it'll never be. Rather, it's the essence engraved in every stone defining the mosque that makes its value unfadable and details genuine. Each of the mosque's stones was built to honor one sultan with so much pride and gratitude all for what he offered to his nation and other cultures. Even more, the mosque's building process must have been full of appreciation and hard work to pay the sultan for his modesty, geniality, and impeccable leadership.

Mohamed Ali Mosque Location
Mohammed Ali Mosque is situated in Al Abageyah, El Khalifa, Cairo, which is not that hard to find. The location of the Mohamed Ali Mosque offers travelers a variety of other authentic sites to visit along the way. The mosque is included in the same space as Salah El-Din Castle, which speaks volumes about how valuable the mosque is and how important it was to the sultan!! The adventures your visit to Mohamed Ali Mosque can offer have not finished just yet.
As you'll find nestled also in the same domain of the mosque are a jewelry museum and the made-out-of-tile Al-Nasir Mohammed Mosque. The castle complex engulfs the National Military Museum of Egypt on its ground as well. And outside Salah El-Din Castle Complex, just nearby, is wherein Al-Rifa'i and Sultan Hassan mosques are located!! By now, you must have noticed; your tour of Muhammad Ali Mosque will offer you the most productive exploration ever in Islam Cairo from the culture and civilization to the art and values.

Mohamed Ali Mosque Showcases the Peaceful Side of Egypt
Egypt offers you both sides. It offers a dominating and powerful side related to Egypt's ancient pharaonic history. This side of Egypt you'll explore with intimidation fogging your way and greatness waving at you from every nooky. It's a side wherein sites such as the Giza Three Pyramids and the Great Sphinx, the Valley Temple seek shelter. Egypt also offers a serene and peaceful side as another definition of its magnitude.
It's a side you'll grow attached to inside Mohamed Ali Mosque and its likes. After a roller-coaster tour in El Giza Pyramids with mysteries and powerful effects of ancient kings surrounding you, a tour of Sultan Mohamed Ali Mosque is truly needed. Sultan Mohamed Ali Mosque's peaceful settings will break your mind free from the intimidation you lived during your trip accompanied by the ancient pharaohs!!

Egypt is Filled with Fantastic Figures from Pharaohs to Sultans
It's set in stone now that Egypt has always been a center of power and greatness from the very start. It's a fact cited by the presence of Egypt's ancient pharaohs and rulers. Ancient Egypt had figures such as King Ramses the Great, King Menes, and Queen Hatshepsut that pulled the essence of its power together.
More time passed and then, it was the arrival of role models like Mohammed Ali pulled more onto the essence. However, Mohammed Ali highlighted his reign with the power of Islam; values, and art. He made people hold much more pride in the Islamic faith with the help of his mosque!! Mohamed Ali Mosque has details on the inside out to match his might and glory back then.

The Purpose of Muhammed Ali Mosque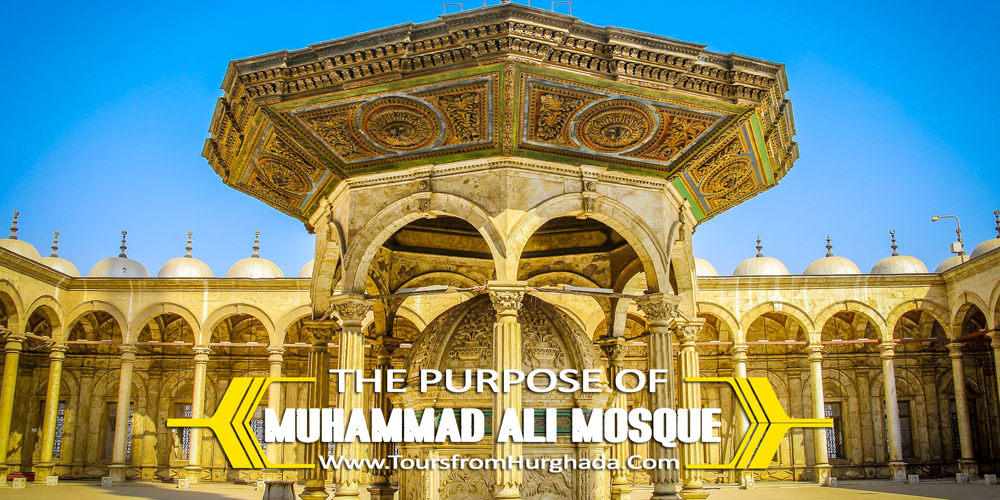 Mohamed Ali Mosque Strengthens the Bond Between Islam and Muslims. Islam has always been appreciated by Muslims and other faith. Firstly, for the fancy details and construction pattern that inspired numerous architects and give you ultimate peace just looking at it. And most importantly, the values and beliefs it introduces and seeks the guidance of the nation. Muhammad Ali Mosque presents both sides of Islam, the artistic and the meaningful ones, as it should be in its own deluxe way. The mosque has details that will make you more hyperaware of how insanely luxurious the Islamic visual art is.
It's a thing the mosque managed to offer in every piece of limestone created in its interiors and the ins and outs of its exteriors. Which all are adorned with appealing archeological patterns and divine designs. And, for the unique value of Islam, it can be felt in the restfulness the mosque will spread in your system. You'll inhale the air of Mohammed Ali Mosque, then you'll find yourself exhaling all your worries and thoughts with the peace it offers.

Conclusion
Our travel agency "Tours from Hurghada" plans excursions to Cairo from Hurghada to clear the fog in your head about what kind of art and value Cairo holds, historically, and spiritually. We also will illuminate your path and put more power into the blurry images you host in your head about the real essence of Egypt. With Tours from Hurghada, you'll find a home to contain all your excitement with your own definitions of adventure and luxury. We'll make you savor the ancient and modern aspects of Egypt from temples and museums to mosques and churches, so don't hesitate and book with us your trip!