Abu Serga church
is one of the oldest churches in
Egypt
and possibly in all of
Africa
and the middle east. The church became known as
St. Sergius
,
st.serigo
or
Abu Serga
and was constructed in the
5th
or the
8th century
"a few historians disagreed about the exact time" in the core of an ancient Roman fort of Babylon.
Abu Serga church
was built to honor two saints; the first was an Egyptian soldier by the name of
Sergius
who was martyred under the Roman rule after converting to Christianity and the second was a servant to the Roman emperor Maximilian that martyred in
Syria
at the beginning of the
4th
century after also converting to Christianity. The location holding Abu Serga church is a site that was one of the sites visited by the holy family during their escape from
King Herod
. Abu Serga church had burned during the fire of Fustat city in the reign of
Marwan II
around
750 AD
but was rebuilt various times through medieval times.
The Architecture of Abu Serga Church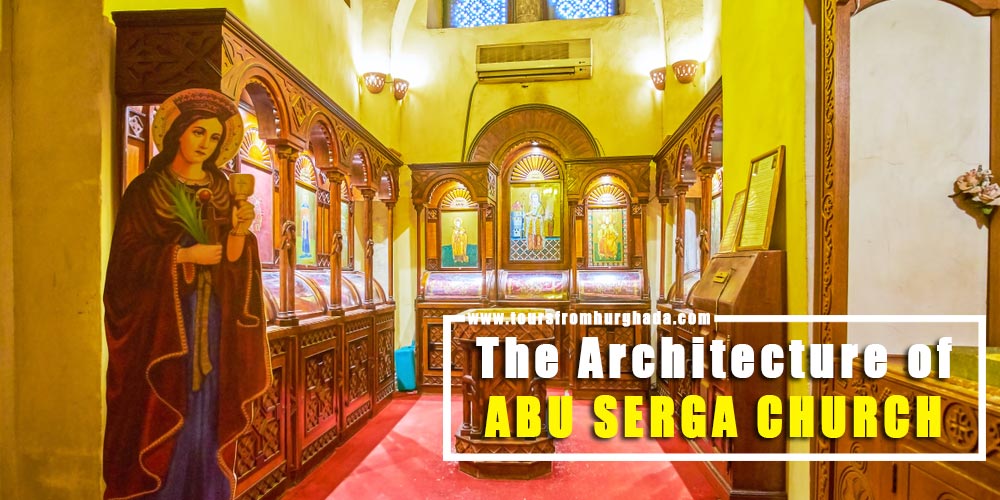 The church's architectural design is a basilica with a narthex and contains a nave and two aisles that are separated from the nave by 12 columns with the Corinthian capitals. Abu Serga church contains three sanctuaries & each one holds an altar and each altar has a dome that contains religious images of Christ, Angels, and four evangelists. Abu Serga church holds a pulpit on the northeast side of the nave made of marble and encrusted with panels of beautiful ebony and ivory. The central sanctuary of the Abu Serga church contains a wooden screen that dates back to the 13th century, the icons and frieze of the church are absolutely enchanting as they date back to the 15th and 16th centuries. One of the most significant chambers in this church is the cave where the holy family hid in during their journey across Egypt. The cave holds a nave, two aisles, a domed ceiling, and a baptistery. On the first of June, the Christian community holds a celebration on the anniversary of the arrival of the holy family in the cave of the church of St. Sergio.