Egypt is the perfect place to have an amazing vacation because you will have numerous options to spend some wonderful time touring around very interesting royal tombs, temples, and visiting the immortal treasure which was left by the ancient Egyptians. You can have extra fun if you planned your vacation in Egypt to take place on the time of the festivals and public holidays in Egypt that take place in a specific time every year so that you enjoy both visiting the incredible attractions of Egypt and celebrate with the Egyptians throughout their public holidays. There are many types of festivals and holidays in Egypt and here are them:
Islamic Festivals in Egypt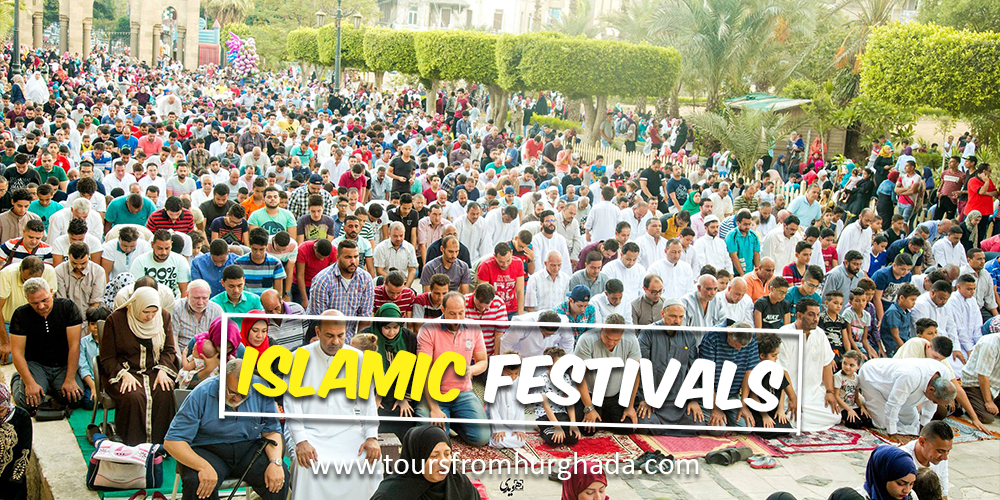 There are two major Islamic celebrations which are Eid Al-Fitr & Eid El-Adha and the story behind these two Islamic Celebrations is very interesting so let's check each one of them and see the story behind.
Eid Al-Fitr
It is an Islamic celebration that can be witnessed after Ramadan. Ramadan is a fasting month for the whole Muslims all around the world through which they aren't allowed to feast or to drink from dawn till the sunset. It is the will of God that all Muslims feel the suffering of the poor ones who don't enjoy the luxury of life and to thank Allah for the whole blessings which they already have. Tourists come to visit Egypt during that season to enjoy the beautiful Egyptian atmosphere which the Egyptians live through Ramadan as all of the stores open their doors for everyone to do some interesting shopping and to get close to know all about the Egyptian customs & traditions. Some tourists get the feeling that Ramadan is not the best time to visit Egypt because they won't find a lot of places to visit but this isn't totally right as if you decided to travel to Egypt during Ramadan, you will enjoy a lot while visiting the best attractions of Egypt while witnessing this special celebration. At the end of this month, comes Eid El-Fitr which begins after the new moon sighting for the beginning of Shawal. During this Eid, Muslims gather together to pray in the early morning and then go to celebrate in different ways. Shops in Egypt offer great deals during this period and you will get the opportunity you need to discover all about the customs & traditions of the Egyptians. The duration of this Eid is 3 Days.
Eid Al-Adha
Eid Al-Adha is an Islamic celebration that is held on the tenth day of Dhu al-Hijjah when Hajj takes place and the duration of this Eid is four days. Allah wanted to let this day so special for the whole Muslims after the sacrifice that Ibrahim did for his son Ismail and a sunnah, Muslims slaughter a sheep on this day and distribute the meat into three parts: among family, friends, and the poor and this is also the will of God.
Coptic Festivals in Egypt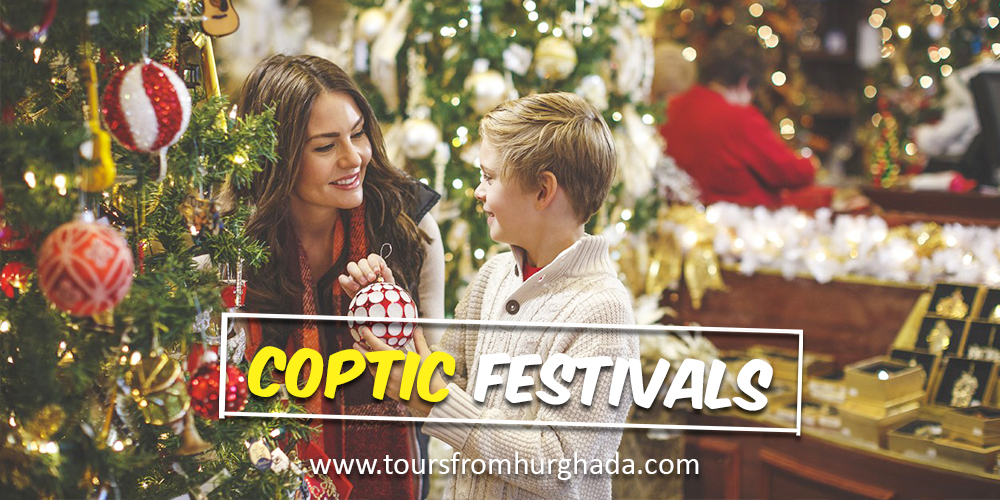 One of the most important Coptic festivals is the Coptic Christmas Festival that is celebrated by some Orthodox Christians on the 7th of January every year. This wonderful celebration reflects healing and inner peace and many Orthodox Christians around the world celebrate it but it has a special flavor in Egypt. While being in Egypt during Christmas, you can experience the delicious different types of Egyptian food including nuts and fresh dried fruits, Lenten bread, mushroom soup, vegetables. You will also find herbs like peas, potatoes and garlic, Bobal'ki, slow-cooked kidney beans with garlic, potatoes and seasoning, baked cod, and honey. That is not all as while touring in the Egyptian streets, you will enjoy the public celebrations of the New Year Celebration with some fireworks and a lot of Christmas Trees that will be a truly exceptional experience that is totally different from celebrating in a usual way.
National Holidays in Egypt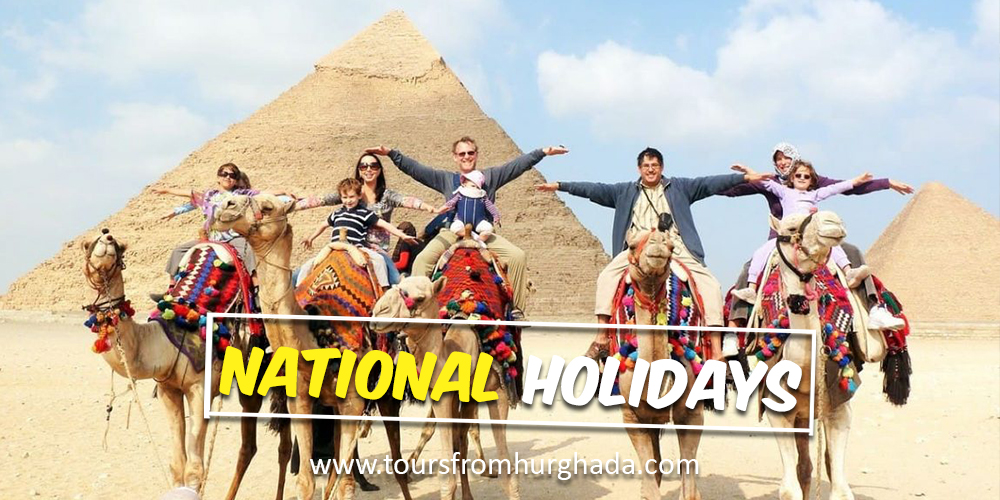 New Year's Day - January 1st
Egypt is the most favorable destination for a lot of tourists when it comes to celebrating New Year's Day. Every space in Egypt gets totally beautiful with the exceptional New Year's decorations and offers. Among the most interesting places that you can spend such a great celebration in is Giza Pyramids Complex to get the chance to visit the most impressive ancient Egyptian monuments and head to other magnificent cities such as Luxor & Aswan and much more that is going to amaze you with their beauty.
Festival of Sun in Abu Simbel – February/ October
One of the most impressive Egyptian destinations that you can head to is Abu Simbel temple of king Ramesses II who built temples to commemorate some special events for him including his coronation date, his birthday, and the immortal love which he carried to his amazing wife Queen Nefertari. While being in Aswan on February 22nd or October 22nd, you should head to visit Abu Simbel Temples to visit the great Abu Simbel sun festival that thousands of tourists come to witness.
Sham An-Nessim - March / April
This incredible festival is related to the agricultural background of ancient Egyptians. Through it, you can witness the beautiful weather in Egypt while visiting the marvelous highlights of Egypt and you will be a totally lucky one if you got the chance to board a Nile Cruise during this period in Egypt. Egyptians used to celebrate the holiday at the spring equinox, the date of which could be determined by looking at the direction of the sunlight at sunrise over the pyramids. While being in Egypt during Easter or Sham El-Nassim, you will find both children and adults color and decorate eggs in various patterns. It is a traditional activity that goes back to the ancient Egyptians, who used to use eggs that are symbolic of new lives and new beginnings.
Wafa'a El-Nil - August 15th
This celebration has a very special history that dates back to the days of the Ancient Egyptians. The story of this celebration can be summarized as follows: the annual flood of the Nile has been the greatest natural event in Egypt for a very long time. The Nile River gifts northeast Africa with water and silt that have brought life to the Egyptian desert and modified the total shape of life in Egypt. If it wasn't for the great Nile, the Ancient wasn't being able to build their magnificent tombs, temples, and chapels. It will be an amazing venture for you to witness such a historical event while boarding Egypt Nile Cruise so that you witness everything around you as if you got into a time machine and go back in the time of the great Egypt Pharaohs.